Green Tea and Orange Scones Recipe with Rhubarb Compote
Have high tea at home with these tasty green tea and orange scones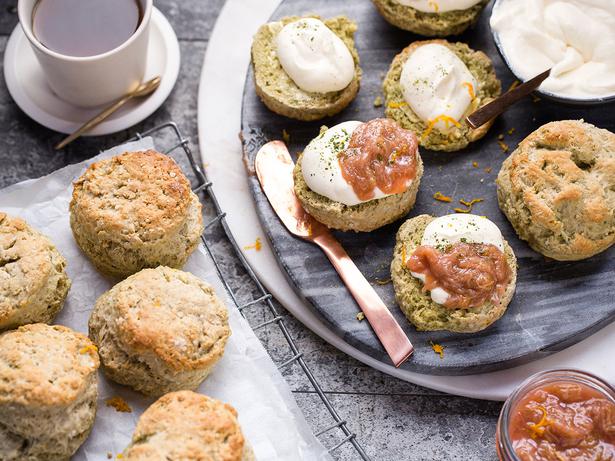 Friday May 5, 2017
If the plan to celebrate Mother's Day involves a crowd then you can't go past scones — loved by all generations. The key for soft and light scones is to handle them as little as possible. In today's recipe, I have added matcha green tea powder — vibrant in colour and subtle in flavour. A little sprinkled on the cream to finish is spectacular and will get your mum guessing. You will find it at speciality tea shops or Japanese supermarkets.
GREEN TEA AND ORANGE SCONES RECIPE WITH RHUBARB COMPOTE
Makes 12
Compote
2 cups chopped rhubarb
Zest and juice of 1 orange
¼ cup brown sugar
Scones
3 cups plain flour
6 tsp baking powder
2 tsp green tea powder
¼ cup brown sugar
100g butter, cut into cubes
150g sour cream
Zest of 1 orange
Zest of 1 lime
1 cup milk
To serve: whipped cream
1. To make the compote, into a medium-sized pot place the rhubarb, orange and sugar. Slowly bring to a simmer for 10 minutes until completely softened.
2. Preheat oven to 210C. Dust a baking tray lightly with flour.
3. Into a large bowl sift the flour, baking powder, and tea powder, add the sugar then combine.
4. Tip in the butter and rub it into the flour until it resembles fine bread crumbs.
5. Add the sour cream, zests and milk and mix gently to form the dough. Tip on to a lightly floured bench. Push it out with your palms until 2cm thick.
6. Using a cutter 3cm in diameter, press out your scones and place on to the baking tray. Put into the oven for 15 minutes until cooked and slightly coloured. Remove and cool.
7. Serve fresh with rhubarb compote and whipped cream and a sprinkle of tea powder.
Share this:
More Food & Drink / Recipes