Fresh Greens Recipe with Goat's Cheese and Hazelnut Crumble
Try this salad with healthy greens and a delicious crumb of toasted hazelnuts and goat's cheese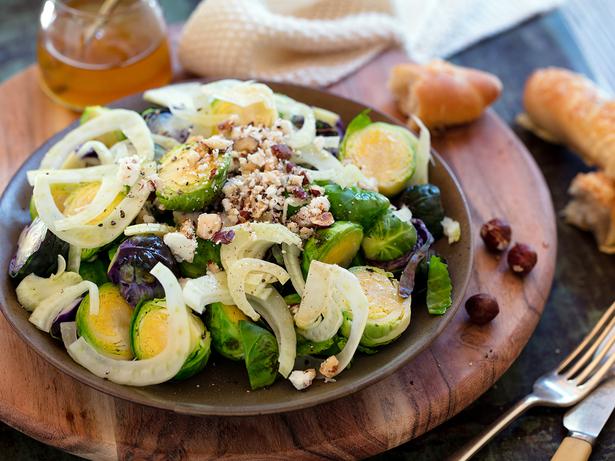 Friday Aug. 25, 2017
The renaissance of brussels sprouts is exciting — they are now appearing on lots of chic menus around town. The key is to cook them until tender and just past crisp.
Here they are combined with shaved fennel, and a delicious crumb made from toasted hazelnuts and goat's cheese to create an impressive salad.
FRESH GREENS RECIPE WITH GOAT'S CHEESE AND HAZELNUT CRUMBLE
Serves 4
Dressing
¼ cup olive oil
2 Tbsp lemon juice
½ tsp dijon mustard
1 Tbsp runny honey
300g brussels sprouts, halved and cooked
½ head fennel, shaved finely
Salt and pepper to season
Crumble
½ cup toasted hazelnuts roughly chopped
100g crumbled goat's feta
1. To make the dressing, place oil, lemon juice, mustard and honey in a jar and shake.
2. Place brussels sprouts and fennel on a platter. Season with salt and pepper.
3. Combine the hazelnuts and feta and sprinkle over the salad.
4. Drizzle with dressing and serve.
Share this:
More Food & Drink / Recipes