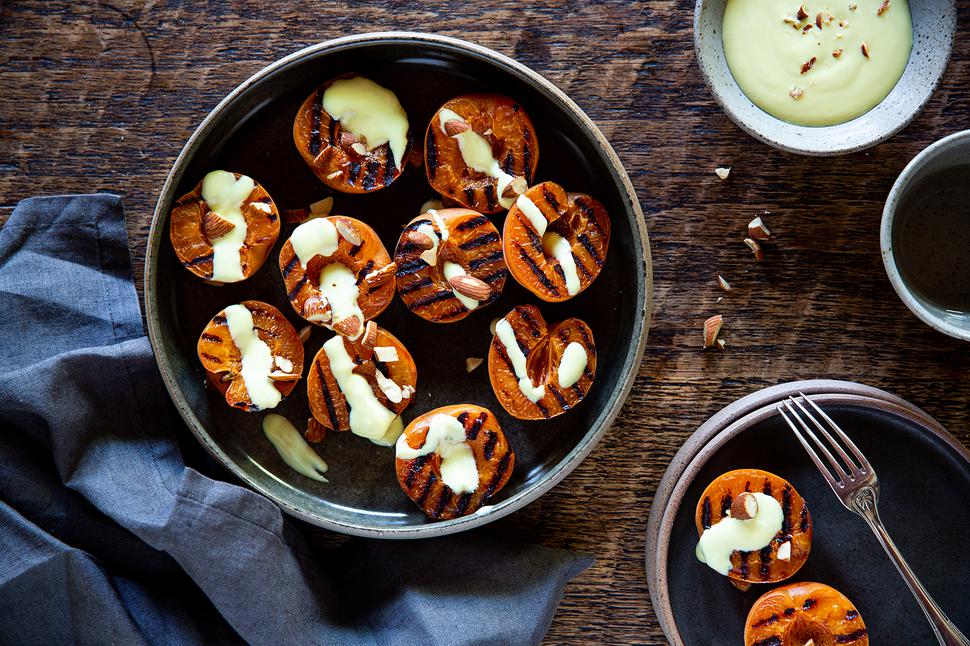 Grilled Apricots With Custard Recipe
Make the most of stonefruit season with this easy vegan dessert
Saturday Jan. 23, 2021
Add a pinch of turmeric and no more, or your custard will become bright yellow. I used oat milk, but almond or soy are also great. The less-watery milks make for a creamier texture. A sneaky extra dash of maple is allowed if you have a sweet tooth.
GRILLED APRICOTS WITH CUSTARD
Serves 4
Custard
2 Tbsp cornflour
¼ cup water
Pinch turmeric
400ml non-dairy milk
1 Tbsp maple syrup
1 tsp vanilla extract

8 medium sized apricots, halved
1 Tbsp coconut oil
½ cup chopped almonds
1. To make the custard, combine the cornflour and water with a pinch of turmeric. Heat the milk in a medium sized pot until just boiling. Stir through the cornflour mixture until the custard is smooth and has thickened. Add the maple and vanilla to taste.
2. Preheat a grill pan to a medium heat. Brush the apricots with warmed coconut oil and cook for 5 minutes, then turn and cook for a further 2.
3. Serve the apricots warm with custard and chopped nuts.
Share this: