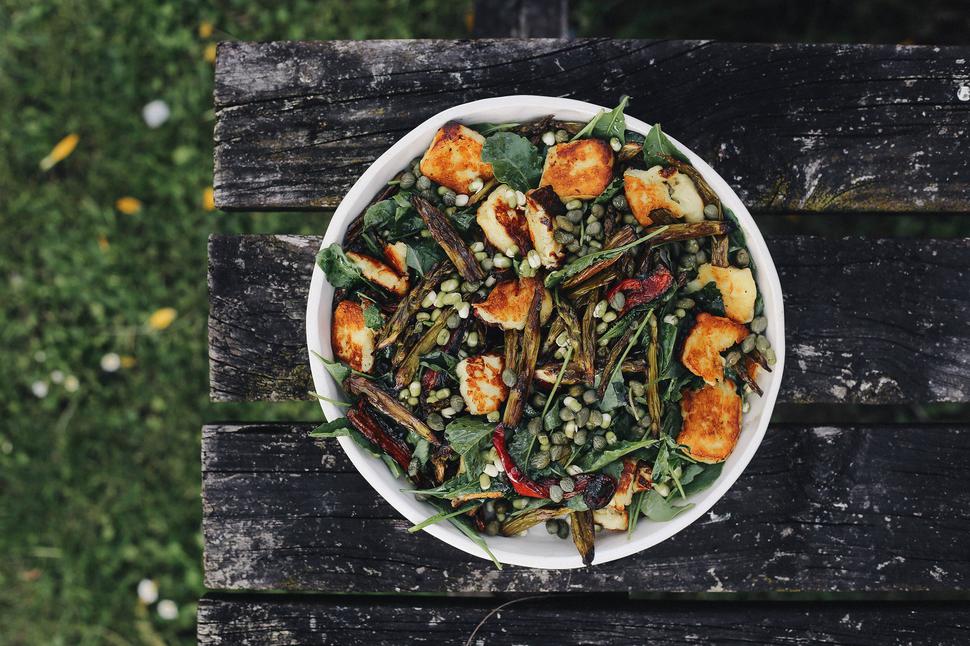 Grilled Asparagus Salad With Halloumi & Basil
This easily adaptable salad will be a favourite over the warmer months
Thursday Nov. 22, 2018
This is a particularly tasty salad of halloumi, grilled asparagus and red pepper, mingling with bursts of refreshing basil, peppery rocket and salty capers. This is a great recipe to breathe new life into leftover vegetables that you might have hanging around in the fridge, or whatever might be in season, as you can easily switch out the fresh produce used. 
GRILLED ASPARAGUS SALAD WITH HALLOUMI & BASIL RECIPE 
Serves 4

1 bunch of asparagus, sliced lengthwise
2 red capsicums, finely sliced
1 leek, finely sliced
1 block of halloumi, sliced into 1cm thick pieces
2 large handfuls of baby rocket
A large handful basil, finely sliced
¼ cup capers
Juice of one lemon
¼ cup extra virgin olive oil, plus extra for drizzling
1 tsp Dijon mustard
1. Place the asparagus, capsicum and leek in a large bowl, drizzle with extra virgin olive oil and toss to coat.
2. Cook the veges on a hot grill until they're beautifully charred and nicely softened. You might need to do this in batches depending on the size of your pan.
3. Grill the halloumi for 1-2 minutes on each side, until golden.
4. Allow the halloumi and vegetables to cool, then toss with the remaining ingredients, and season with sea salt and freshly ground pepper.
5. Pile on to a large serving dish, and enjoy!
Share this: