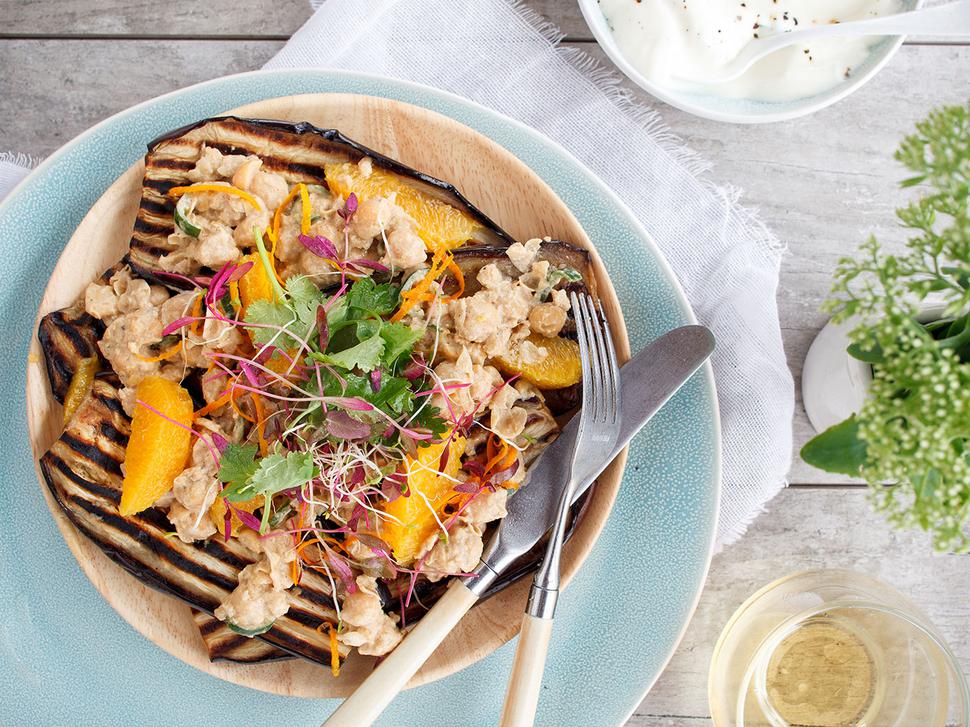 Grilled Aubergine with Chickpea Mash Recipe
This grilled aubergine and creamy chickpeas are a great combination
Friday March 4, 2016
A recent meal at Te Motu on Waiheke Island reminded me how delicious aubergine and chickpeas work together. The chef had created a gorgeous entree for the Friday night fixed menu. Inspired, I came home and created this aubergine and chickpea mash salad. Simply add tahini, garlic, lemon and herbs and it is ready in minutes. This salad makes a great accompaniment or is divine spread on a slice of baguette. The creamy texture of Greek-style yoghurt rounds it off perfectly.

GRILLED AUBERGINE RECIPE WITH CHICKPEA MASH 
• 1 aubergine, sliced lengthways
• Oil for cooking
• Salt and freshly ground pepper
• 390g tin chickpeas
• 2 Tbsp tahini
• 2 cloves garlic, crushed
• 1 green chilli, finely sliced
• ½ cup mixed chopped mint and coriander
• Zest and juice of 1 lemon
• Zest of ½ orange
• Olive oil
• Segments of 1 orange
• Greek-style yoghurt to serve
• ½ cup coriander to garnish
1. Rub the aubergine slices with oil and season well. Heat a griddle pan or frying pan to a high heat. Cook the slices for 3 or 4 minutes each side until brown and golden. Set aside to cool.
2. In a large bowl place the chickpeas, tahini, garlic, chilli, mint, coriander, lemon and orange zest. Mash roughly with a fork to combine, breaking up the chickpeas. Add a drizzle of olive oil and season.
3. Place the aubergine slices on a platter and spoon over the chickpeas mixture. Serve with segments of orange, dollop of yoghurt and garnish with extra coriander leaves.
Share this: