Grilled Fruit Recipe with Cashew and Coconut Crumb
For a quick dessert, whip up this cashew crumb grilled fruit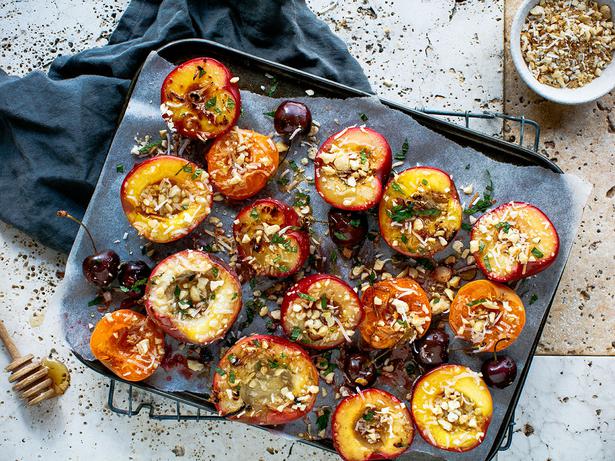 Friday Jan. 15, 2016
CASHEW AND COCONUT CRUMB ON GRILLED FRUIT
Serves 6
½ cup roughly chopped cashews
½ cup shredded coconut
¼ cup rolled oats
½ tsp cinnamon
2 Tbsp melted butter
¼ cup rice syrup or brown sugar
4 plums, halved, stones removed
4 apricots, halved, stones removed
4 nectarines, halved, stones removed
1 cup whole cherries
zest and juice of 1 lime or lemon
1. Preheat an oven to 180C.
2. To make the crumb, combine the cashews, coconut, oats, cinnamon, butter and rice syrup.
3. Place the stonefruit on an oven tray, cut side up. Sprinkle with lime zest and juice then top with the crumb mixture.
4. Bake the fruit for 10 minutes until softened, but not collapsed, then grill for a further 5 minutes until the crumb is crispy and lightly browned.
5. Serve warm with mascarpone, a garnish of lime zest and a squeeze of lime juice.
Share this: