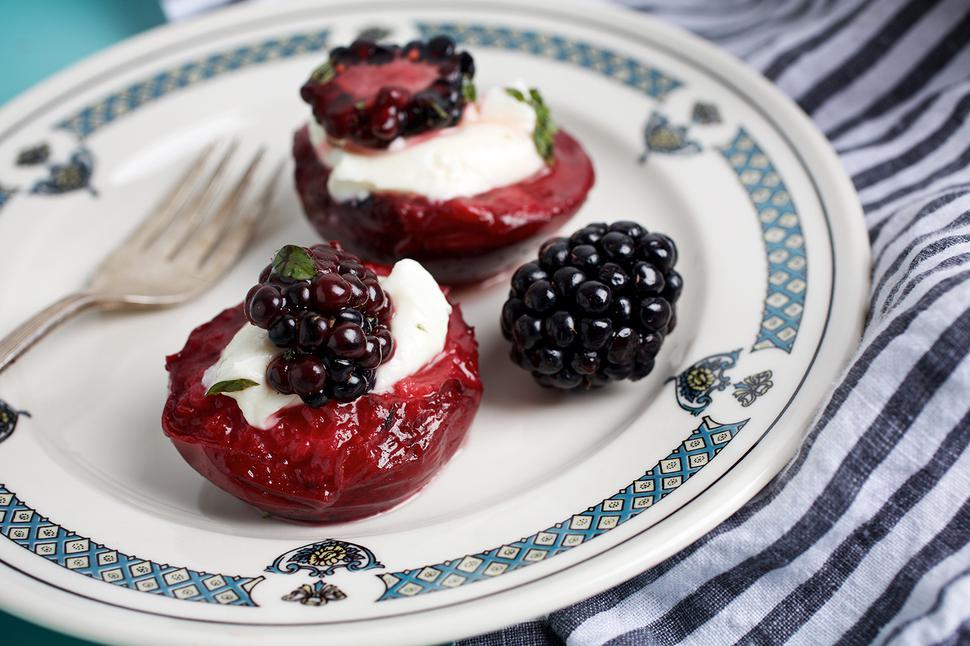 Grilled Plums with Goat Cheese and Honey-Thyme Drizzle
A fruit and cheese dessert that's unexpectedly luscious and healthful
Saturday Jan. 6, 2018
A plate of fresh fruit and cheese is a delightful way to cap off a summer meal. But add some heat, honey and herbs to that basic pairing and you wind up with a sensuous, out-of-the-ordinary dessert that has a real wow factor.
In the accompanying recipe, the heat of the grill warms ripe plum halves just enough to caramelise them a bit and release their juices while the char that forms on their cut sides gives them a slightly savoury flair.
Pretty much any large stone fruit, such as peaches or nectarines, would work as a substitute. They key is to use whatever looks and smells the most beautifully fresh and ripe. The fruit is served warm, or at room temperature, with goat cheese - but not the usual, plain goat cheese. Here, chevre is whipped with honey and a dash of milk into a smooth, dollop-able cream and then chilled, so its texture resembles a dense whipped cream. It tastes rich and lightly sweet, with the intriguing undertone of the distinctively grassy cheese.
Each plum half is topped a dollop of the cream, punctuated with a plump blackberry and finished with a drizzle of honey, lemon juice and fresh thyme. The herb adds a unique floral essence and is a pleasant element of surprise because thyme is more typically associated with savoury dishes than dessert. Basil or mint would work well, too, when you want to switch it up.
The result is a fruit-and-cheese plate taken to new heights, one that is at once sweet, savoury, earthy and heavenly. 
GRILLED PLUMS WITH GOAT CHEESE AND HONEY-THYME DRIZZLE
Serves 4
Whipping goat cheese with honey and a little milk makes a smooth cream with a rich, lightly sweet flavour that has the intriguing undertone of the distinctively grassy cheese. The cream is a treat served atop just about any fresh fruit, but here it is spooned onto grilled plums and drizzled with honey, lemon and thyme. The plums can be cooked on an outdoor grill as well. The goat cheese cream can be made ahead of time - it needs to be refrigerated for at least 30 minutes before serving, and up to 3 days.
70g soft goat cheese (chevre)
3 Tbs low-fat or whole milk
3½ Tbsp honey
1 Tbsp fresh lemon juice
½ tsp coarsely chopped fresh thyme leaves
4 medium ripe plums
½ Tbsp olive oil
8 blackberries
1. Combine the goat cheese, milk and 1½ tablespoons of the honey in a mixing bowl. Use a handheld electric mixer to beat for 1 to 2 minutes, until creamy. Makes about ½ cup. Cover and refrigerate for at least 30 minutes, and up to 3 days.
2. Whisk together the remaining 2 tablespoons of honey, the lemon juice and the thyme in a small bowl.
3. Preheat a grill pan over medium-high heat. Cut the plums in half through the stem end, pit them and brush the cut sides with oil. Grill the plums, cut sides down, for 2 to 4 minutes, until they have softened a bit and there's some char on the plums' flesh. Transfer cut sides up to a plate to cool slightly.
4. Serve the plums with a dollop of the goat cheese cream, each topped with a blackberry and drizzled with the honey-thyme mixture.
— The Washington Post
Share this:
More Food & Drink / Recipes