Grilled Tuna Recipe
This delicious grilled tuna recipe is served with plum tomato sauce and green olive salsa verde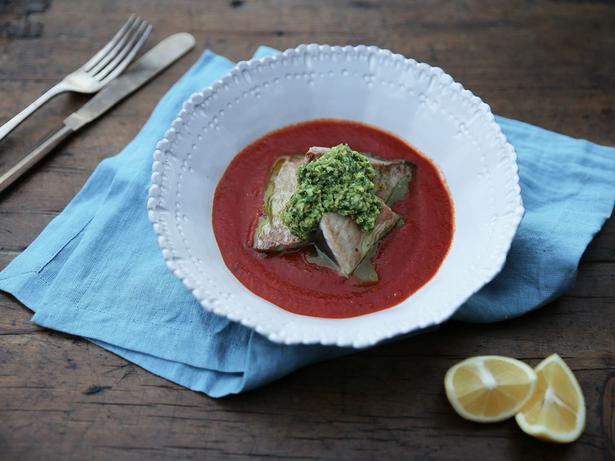 Thursday April 28, 2016
On Saturday evening, my husband brought home a large catch of tuna. After a few hours or so of filleting, the majority was popped in the freezer, with a few servings put aside to enjoy fresh the next day. What followed was a dish of sweet plum tomato and basil sauce, topped with lightly grilled tuna and a squeeze of lemon juice. The rich-tasting fish was given a fresh, top note with a dollop of green olive salsa verde. The simple flavours in this dish satisfy in a way that more complicated recipes could not. Best enjoyed hot, straight from the pan.

GRILLED TUNA RECIPE
For the salsa verde:
1 cup green olives
3/4 cup extra virgin olive oil
large handful of basil
large handful of italian parsley
2 cloves garlic
juice of one lemon
2-3 anchovies (optional)
For the tomato sauce:
2 cans good quality plum tomatoes
3 Tbsp extra virgin olive oil
1 Tbsp honey or sugar
handful of fresh basil, roughly chopped
2 Tbsp olive oil or coconut oil for grilling
4 servings of fresh tuna
Lemon wedges to serve
1. Combine all salsa verde ingredients in a blender or food processor. Pulse 3-4 times, until you have a nice consistency. If you have left out the anchovies, you might need to season with a little sea salt.
2. Place all tomato sauce ingredients in a small saucepan over medium heat. Bring to a soft boil, then turn down to low, and simmer for 25 minutes or until reduced and thick. Season with sea salt and a little ground pepper.
3. Warm the olive oil or coconut oil in a pan over medium heat. Grill the tuna for 1-2 minutes on each side, or until cooked to your liking.
4. To serve, ladle the tomato sauce in to four, deep rimmed bowls, then top with the tuna and a dollop of salsa verde. Place a lemon wedge on the side.

• For more from Eleanor Ozich see petite-kitchen.com  
Share this:
More Food & Drink / Recipes