Halloumi and Asparagus Salad Recipe
Welcome in asparagus season with this incredibly simple warm salad nicely suited for the barbecue season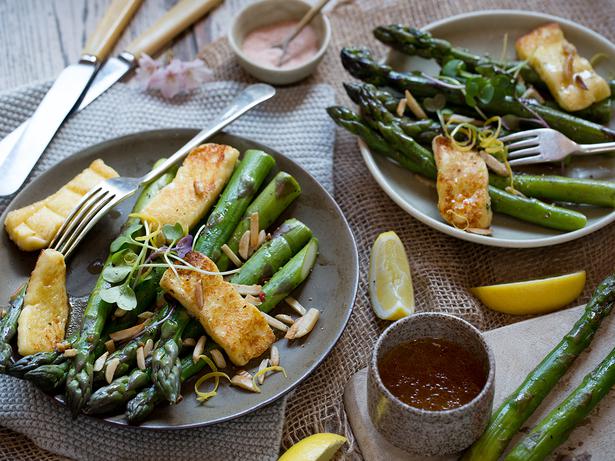 Friday Oct. 6, 2017
Asparagus looks great in this super-quick, delicious salad which will leave you feeling nice and healthy. The tasty halloumi works well with the crisp vegetable, and buttery toasted almonds round it off well. I've kept the dressing simple so as not to detract from the subtle flavours. When it's a little warmer outside, you can create this salad on the barbecue.
HALLOUMI AND ASPARAGUS SALAD
Serve 4-6
Salad
2 bunches asparagus, ends trimmed
1 Tbsp butter
Salt and pepper to taste
200g halloumi, sliced
100g slivered almonds
Microgreens, to sprinkle
Dressing
¼ cup flavourless oil
2 Tbsp sweet chilli sauce
2 Tbsp lemon juice
1. Bring a large pot of salted water to the boil. Cook asparagus for 3 minutes then remove.
2. Heat butter in a large frying pan to a high heat. Sear the asparagus all over, seasoning with a little salt and pepper. Remove and place on a platter.
3. In the same pan cook halloumi for a minute each side, then place on top of asparagus. Brown almonds in the pan and sprinkle on the platter.
4. Top with a few microgreens and drizzle with dressing.
5. Serve warm.
Share this:
More Food & Drink / Recipes