Tomato, Halloumi and Olive Pizza Recipe
Treat yourself to this tasty everyday pizza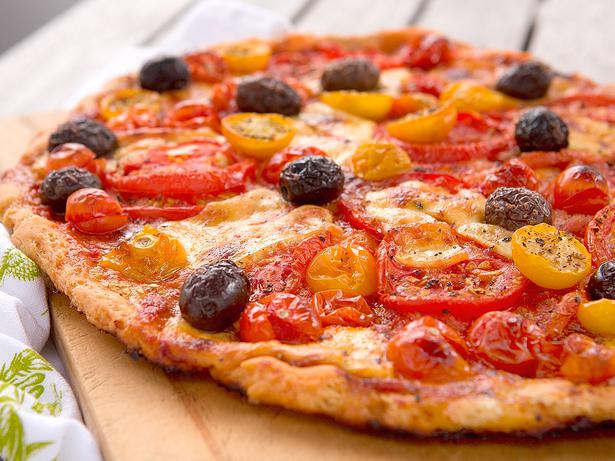 Friday Feb. 22, 2008
TOMATO, HALLOUMI AND OLIVE PIZZA
Serves 4
Dough
1 Tbsp dried yeast
1 tsp salt
tsp sugar
2 tsp olive oil, plus an additional Tbs
1 cup lukewarm water
400g plain flour
Sauce
6 large tomatoes
1 onion, finely diced
1 small red chilli, finely diced, seeds removed if preferred
1 clove garlic, finely sliced
1 sprig fresh thyme
Sea salt and freshly ground black pepper
1 punnet yellow cherry tomatoes
1 punnet red cherry tomatoes
cup freshly grated Parmesan
150g halloumi cheese
1 cup good quality black olives, such as kalamata, stones in
1 To make the dough: mix the yeast, salt, sugar, first measure of olive oil and water together then leave in a warm place until it become frothy. Add the flour and knead for 5 minutes until smooth. Grease a bowl with remaining olive oil, add the dough, cover and place somewhere warm until doubled in size _ approximately 1 hour. Knock back the dough and roll out to required size. Lay on a greased oven tray or a hot pizza stone.

2 To make the sauce, scald the tomatoes, peel then roughly chop. Heat the olive oil, add the onion, chilli and garlic, then the tomatoes. Add the thyme, season and cook over a low heat for 30 minutes, stirring occasionally until a thick sauce develops.
3 Spread the dough with the sauce then top with halved and whole cherry tomatoes, Parmesan, sliced haloumi and olives.
4 Bake in a hot oven for approximately 20 minutes.
Share this:
More Food & Drink / Recipes