Halloumi and Chargrilled Vegetable Salad Recipe
Try this recipe for halloumi and chargrilled vegetable salad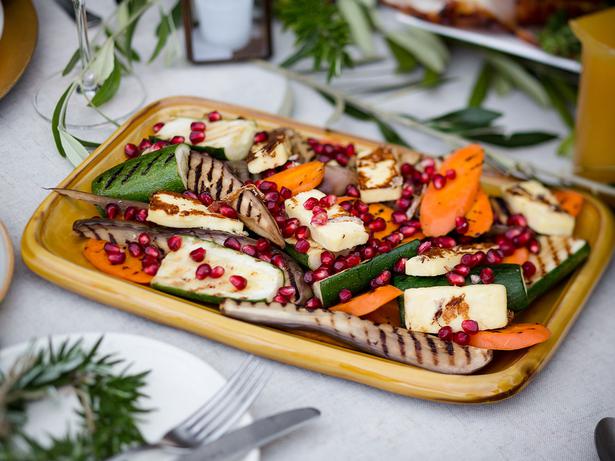 Friday Dec. 9, 2016
A chargrilled vegetable salad is a wonderful summery addition to the table. If you can, grill the vegetables on a barbecue earlier in the day to allow the flavours to infuse. And then cook the halloumi just before serving. Alongside this, I like to also serve traditional boiled potatoes with lashing of butter and mint, and a bowl of green beans for colour.
HALLOUMI AND CHARGRILLED VEGETABLE SALAD
Serves 6
1 aubergine, sliced lengthways
3 large carrots, cut on a diagonal, blanched
2 courgettes, cut into chunky pieces
½ cup olive oil
Salt and pepper
200g halloumi, sliced ½ cm thick
½ cup pomegranate seeds
Dressing
¼ cup olive oil
¼ cup lemon juice
2 Tbsp pomegranate molasses
1. Preheat a barbecue grill to a medium heat. Rub all the vegetables generously in oil and season with salt and pepper. Cook on the grill until soft and delicious. Set aside on a tray.
2. To make the dressing in a small jar combine the olive oil, lemon juice and molasses, shaking well.
3. Just before serving, heat a frying pan to very hot. Sear the halloumi on both side to brown. Add to the salad. When ready to serve place the vegetables on to a platter and sprinkle over the pomegranate seeds and dressing.
Share this:
More Food & Drink / Recipes