Ham Hock Eggs Benedict Recipe
A flavoursome ham hock and a perfectly poached egg is an ideal power breakfast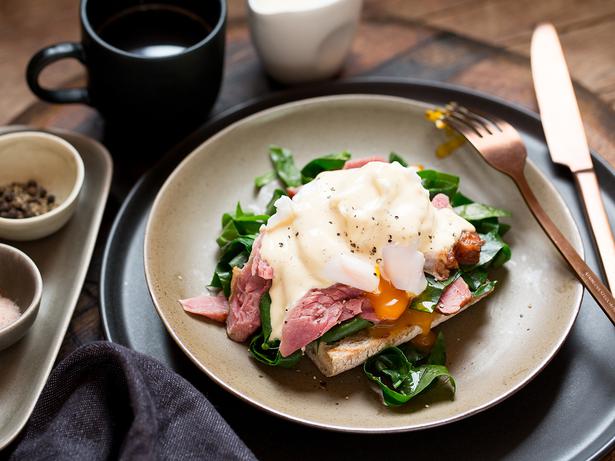 Friday Sept. 8, 2017
A flavoursome ham hock with spinach and a perfectly poached egg is my ideal breakfast, especially when ravenous after a morning of exercise. You can buy the bearnaise sauce, but home-made is next-level delicious, so try not to take the shortcut. If you don't rush the process, you'll definitely impress your grateful dining companions.
HAM HOCK EGGS BENEDICT RECIPE
Serves 4
1 large ham hock
½ onion, chopped roughly
Bearnaise sauce
2 Tbsp white vinegar
2 Tbsp lemon juice
6 peppercorns
2 egg yolks
½ tsp Djion mustard
150g butter
To serve
120g spinach
4 eggs
Chunky toast
1. Firstly, cook the ham hock. Place it into a large pot. Cover with water, add the onion and bring to a simmer. Cook for 1½-2 hours or until the meat starts falling from the bone. Remove and shred the meat.
2. To make the bearnaise sauce, in a small pot place the vinegar, lemon juice and peppercorns. Bring to a simmer and let it reduce by half, then strain.
3. Place the egg yolks into a small bowl over gently simmering water. Whisk in the mustard and slowly add the butter a little at a time, allowing it to thicken, then add a bit more. Once it is all added, remove from the heat and whisk through the vinegar reduction.
4. To serve the toast the bread, wilt the spinach, poach the eggs and assemble with shredded ham and a spoonful of sauce. Serve hot.
Share this: