Fruit Hand Pies Recipe
Try this delicious hand pies recipe with sticky fruit and a hint of ginger by Eleanor Ozich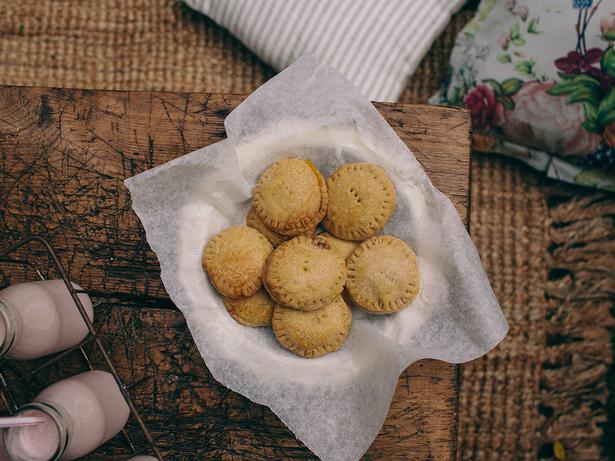 Thursday June 30, 2016
If there's anything better than a large slice of comforting pie, it's a petite and buttery hand pie that you can claim as your own and nibble with joy. And if there's anything better than a hand pie, it's one that's filled with sweet, sticky fruit and just a touch of spicy ginger, don't you think?

HAND PIES RECIPE WITH STICKY FRUIT AND A HINT OF GINGER 
Makes 10-12 pies
500g spelt flour or buckwheat flour, plus extra for dusting
50g coconut sugar, plus extra for dusting
350g butter, chilled and cubed
1 tsp pure vanilla extract
Zest and juice of 1 large lemon
3 large eggs
Milk, for brushing
For the filling:
600g stonefruit, peeled and diced; if not in season, use preserved or tinned and simply rinse off the syrup
1 tsp pure vanilla extract
Juice of ½ lemon
2 Tbsp spelt, buckwheat or rice flour
½ teaspoon ground ginger
¼ cup honey, maple syrup or brown rice syrup
1. Add the flour, coconut sugar, butter, vanilla and lemon zest and juice to a food processor. Add a pinch of sea salt and process until the mixture resembles dense breadcrumbs. Add the eggs, and process until the mixture starts to come together like a dough.
2. Turn the dough out onto a floured surface and knead lightly for 2–3 minutes. Shape into a ball, cover with plastic wrap and rest in the fridge for 15–20 minutes.
3. To prepare the filling, combine all the ingredients in a small bowl and stir well.
4. Roll the dough out on a floured surface to about 5 mm (1/4 inch) thick. Using a round cookie cutter (or the rim of a wide-mouthed glass), cut out as many circles as you can.
5. Transfer half the dough rounds to large baking trays lined with baking paper,  leaving 2 cm (3/4 inch) between each. On each one, place about 2 tablespoons of the filling on the front edge of the circle, leaving about a 1 cm (1/2 inch) border.
6. Working with one round at a time, brush the edges with a little milk and pop a second circle on top. Use the tines of a fork to gently seal the edges. Repeat with the remaining dough circles.
7. Cut a few small slits in the top of each pie with a knife. Brush the tops with milk, and sprinkle with extra coconut sugar.
8. Bake for 30 minutes, or until the tops begin to brown.
9. Remove from the oven and allow the pies to cool. The pies are best enjoyed on the day they are made.

• For more from Eleanor Ozich see petite-kitchen.com 
Share this: