Harbourside's Wild-Caught Prawns Recipe
Harbourside Ocean Bar Grill, which just won Best Restaurant at the Hospitality Awards New Zealand, shares its recipe for wild-caught prawns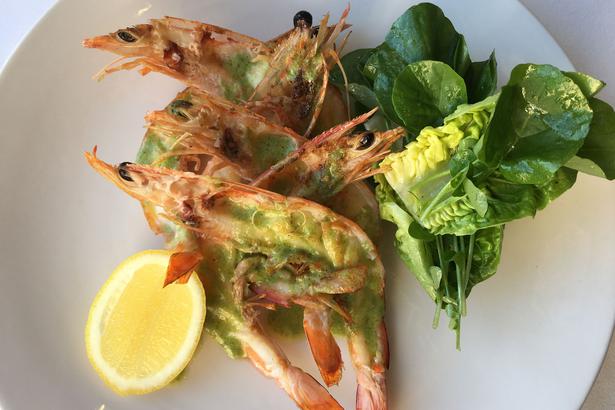 Friday Oct. 21, 2016
Auckland seafood restaurant Harbourside Ocean Bar Grill was named New Zealand's Best Restaurant at the Hospitality Awards New Zealand last week. 
The awards, which featured 64 finalists in 16 categories, were attended by more than 450 people at a black-tie event held at SkyCity Auckland to recognise food, beverage, and accommodation vendors from all over the country. 
Other winners on the night included Waipoua Lodge, Northland (Supreme Award Winner), Smash Palace, Gisborne (Best Music Entertainment Venue) and Dog With Two Tails, Dunedin (Best Cafe).
Below, Good Group Hospitality's executive chef Stuart Rogan and head chef Thomas Barta share Harbourside's recipe for Wild-Caught Prawns, which Stuart says is a great summer dish — "simple but elegant and luxurious". He recommends that you source the prawns from a good fish market.
WILD CAUGHT PRAWNS RECIPE
Ingredients
12 whole U6 wild-caught prawns,cut lengthwise to butterfly
1 Tbsp olive oil
Lemon wedges
Salad of baby cos leaves and upland cress
Chardonnay vinaigrette
Garlic and parsley butter
2 tsp olive oil
2 garlic cloves, peeled and crushed
4 Tbsp Pernod
3 Tbsp picked flat-leaf parsley leaves, very finely shredded
100g unsalted butter
¼ tsp flaky salt
Chardonnay vinaigrette
100ml Good quality chardonnay vinegar
200ml Extra virgin olive oil
Salt
Method for the garlic and parsley butter
1. Place the oil in a heavy-based saucepan over low heat and add the garlic. Cook for about 1 minute until soft but not coloured.
2. Increase the heat and add the Pernod. Allow to bubble up and reduce by half.
3. Add the parsley, remove from heat and whisk in the butter.
4. Season with the salt. Set aside while you quickly pan-fry the prawns.
Method for the prawns
1. Heat a large frying pan over medium-high heat. Rub the prawns with the oil and place in the hot frying pan.
2. Pan-fry for about 2-3 minutes until they begin to turn pink and the flesh is no longer transparent.
Method for the chardonnay vinaigrette
1. Mix all ingredients well and use a little to dress baby cos.
To plate
Have serving plates ready and place three prawns on each with the garlic and parsley butter, a lemon wedge and the salad dressed with enough chardonnay vinaigrette to moisten.
Share this: