Off Duty: Hare and the Turtle's Owners Share Their Top Spots To Eat & Drink
Aletheia Elder and Jamie Kennedy, owners of cool sandwich spot Hare and the Turtle, share their foodie picks around Auckland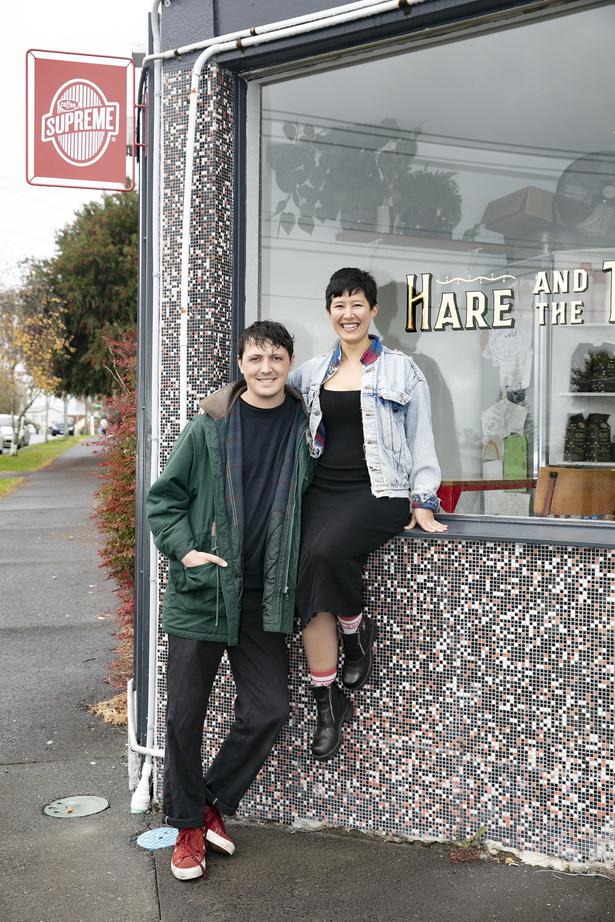 Thursday Oct. 17, 2019
On an unexpected suburban corner in New Windsor, you'll find the cool coffee and sandwich spot Hare and the Turtle. Owners Aletheia Elder and Jamie Kennedy are both musos (associated with local indie bands Ghost Wave and Poor You Poor Me) turned Best Ugly Bagels makers who opened their cafe together two years ago.
READ: Where Chefs Eat: Izu's Sam Lee Shares His Top Spots To Eat & Drink In Auckland
It's hard to stray from the cabinet full of their house-made sticky cinnamon buns and cream-stuffed lamingtons, but it's their signature sandwiches that will have you visiting again. There are just eight deceptively simple-sounding options to choose from, but the Daisy — one of their most popular — has beef cheeks cooked for 20 hours with juniper, onion and butter, melted edam cheese, mustard and pickled onion between toasted sourdough.
The cafe name — the title of a song by Aletheia's old band — is meant to reflect the time taken in the kitchen. "We make the buns, pickles, sauces and a lot of our own fillings ... when you do it slow and steady you win," she says. 
What sandwich is a must-try on your menu? Aletheia: The eggplant parmigiana will make you face-plant into it, it's so good.
What's on the cafe playlist? We have three running playlists at the cafe that are on Spotify. 'Hare and the Turtle' is four years old. We used it at Best Ugly and just keep adding stuff to it. 'Turtle' is for the morning and chill parts of the day and mainly has jazz, soul, funk and blues. 'Hare' is faster paced with hip-hop (non-sweary) and some Kali Uchis.
Where do you go for coffee? L'Oeuf. It's the closest cafe to us with great coffee and the chorizo cheese muffins are off the chain.
Your favourite place for a cocktail? Gemmayze St has the best cocktails.
A no-expenses-spared fine-dining dinner? Do we get to go anywhere? In that case, Noma.
Your go-to takeaway spot? Jade Takeaways, Avondale, for the fried rice, beef chow mein, and fried wontons.
A sweet treat? The banoffee or chocolate cherry pie at The Fed. Or the chocolate mousse at Cazador.
The best spot for fresh produce? All the good farmers' markets are on a Sunday. If we had that day off we would be making a pilgrimage to Clevedon, where I used to work.
Great last dish you ordered? The Peking duck at Huami.It was so good Jamie cried.
A restaurant recommendation outside of Auckland? We went to Momofuku in Sydney once. It was the most inspiring, life-changing dinner.
Share this:
More Food & Drink / Favourite Cafes