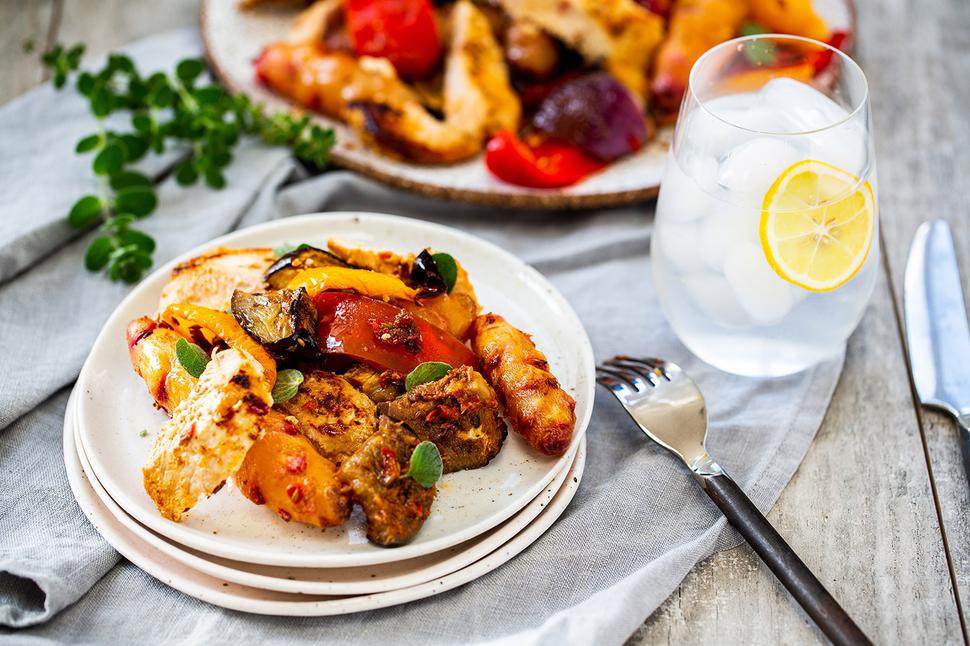 Harissa Roast Vegetables & Chicken Recipe
Use whatever vegetables you have on hand for this easy and flavourful meal
Sunday July 12, 2020
This is the perfect opportunity to use up whatever vegetables you have on hand. When roasting, cut them into sizes that allow them all to finish cooking at approximately the same time. Spicy harissa paste gives a delightful flavour here; it is also great smothered over fish or lamb.
HARISSA ROAST VEGETABLES WITH CHICKEN
Serves 4
Chicken marinate
2 chicken breasts
¼ cup yoghurt
2 Tbsp harissa paste
Salt and freshly ground pepper
Vegetables
4-5 cups vegetables, eg aubergine, peppers, yams, red onion
2 Tbsp olive oil
1 Tbsp harissa
¼ cup oregano leaves
1 lemon, halved
1. Preheat an oven to 180C. Line a baking tray with paper.
2. Flatten the chicken breasts between two pieces of baking paper until ½ cm thick. Place in a bowl and smother with the yoghurt, harissa, salt and pepper, mixing well. Marinate for at least 10 minutes.
3. Chop the vegetables roughly and place on the baking tray. Drizzle with olive oil, harissa and oregano, tossing to combine. Bake for 25 minutes. While they are cooking, pan-fry the chicken to give a little colour on each side, then add to the vegetables for the remaining 10 minutes or until cooked through.
Share this: