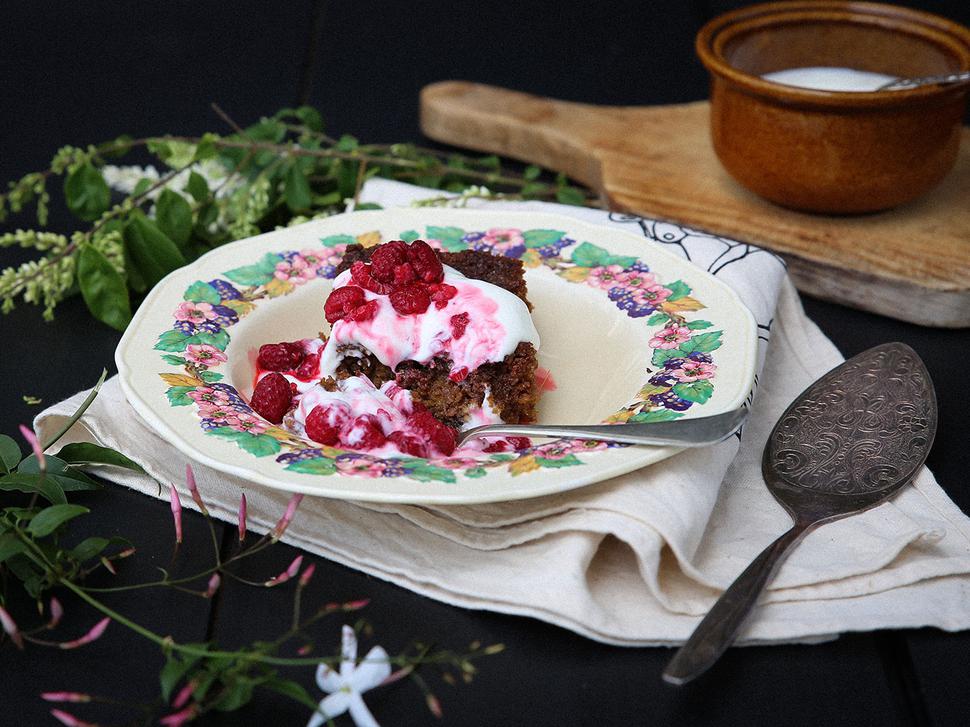 Hazelnut Cake Recipe with Ginger
Try making this delicious toasted hazelnut cake by Eleanor Ozich
Thursday Nov. 26, 2015
A deeply spiced ginger, cinnamon and toasted hazelnut cake topped with sweet tart raspberries. Oats are used instead of flour for a gentle soft crumb. This cake is gorgeous served warm with a little cream or thick natural yoghurt to flatter the golden crust and tender juicy fruit.

HAZELNUT CAKE WITH GINGER
Serves 8 
• ¾ cup hazelnuts
• 1 cup/200g unsalted butter, softened
• 1 cup coconut, rapadura or light muscovado sugar
• 4 large free range eggs
• 1 cup quick cook oats
• 1 tsp ground cinnamon
• A large thumb of fresh ginger, grated*
• 1 tsp baking soda
• Natural yoghurt to serve
• Fresh raspberries to serve
Note: you could also use about 1½ tsp ground ginger if you don't have fresh, although the gorgeous flavor from fresh has much more of a kick.

1. Preheat the oven to 180 C.
2. Toast the hazelnuts in a fry skillet until fragrant, then set aside to cool. Grind the nuts to a coarse flour using a food processor or blender. 
3. Place the butter and sugar in a bowl, and cream using an electric beater until light and creamy. This will take 3-4 minutes.
4. Beat in one egg at a time, and then gently fold in the remaining ingredients being careful not to over-mix. 
5. Pour the mix in to a greased cake or baking dish, and smooth out evenly.
6. Bake in the oven for 35 minutes, or until a skewer comes out clean when inserted in the middle. 
7. Leave to cool before slicing.
8. Serve with a generous dollop of natural yoghurt and fresh raspberries.

• For more from Eleanor Ozich see petite-kitchen.com 
Share this:
More Food & Drink / Recipes