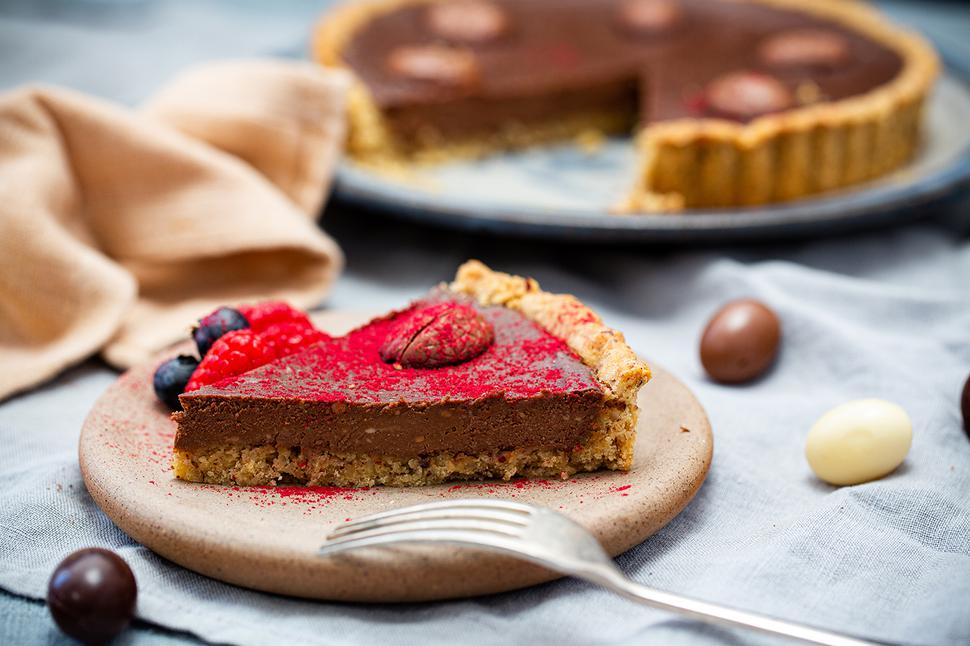 Hazelnut & Ricotta Tart Recipe
Consider this your Easter weekend dessert — a deliciously nutty tart dotted with creamy caramel eggs
Saturday April 3, 2021
Creamy caramel eggs add gooey goodness to this tart. The filling doesn't need much sugar, as the Easter eggs do the talking. Hazelnuts in the pastry make for a little extra crunch and flavour. There's no need to remove the skins from the nuts.
HAZELNUT & RICOTTA TART
Serve 6-8
Pastry
1 cup plain flour
½ cup toasted hazelnuts
100g butter
1 egg yolk
Filling
250g ricotta
1 egg
2 Tbsp brown sugar
100g chocolate, melted and cooled slightly
6 x mini caramel eggs
Fruit, to decorate
1. Preheat an oven to 180C. Grease the base of a 20cm tin.
2. For the pastry: into a food processor place the flour, hazelnuts, butter and egg yolk, blitzing until the dough forms. Place onto a lightly floured bench and roll to fit your tin with a little overhang. Trim the edges. Bake blind lined with paper and rice for 15 minutes, then remove the paper and cook for a further 5 minutes to dry the base. Remove from the oven.
3. For the filling: into a bowl place the ricotta, egg, sugar and chocolate, stirring well to combine. Pour into the tart shell and dot the Easter eggs into the mixture. Bake for 35 minutes or until just set. Remove and cool completely.
4. To serve, decorate with your favourite fruit.
Share this: