Healthy Fish and Chips Recipe
Try this recipe for pan fried fish with kale and kumara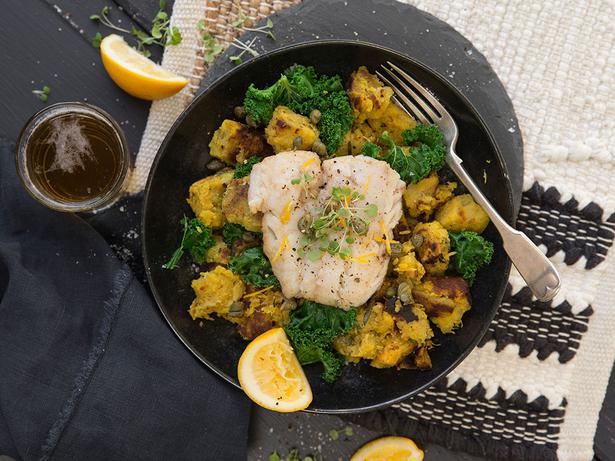 Tuesday Aug. 4, 2015
PAN FRIED FISH WITH KALE AND KUMARA
Serves 4
• 400g gold kumara, peeled cut into chunks
• 1 Tbsp butter
• 1 Tbsp olive oil
• 3 cloves garlic, sliced
• 60g chopped kale
• 1 tsp chopped fresh rosemary
• 1 Tbsp capers
• zest and juice of 1 lemon
• butter to cook fish
• 4 x 150g fish fillets
• salt and freshly ground pepper
• lemon juice and wedges to serve
1. Place the kumara in a pot of salted water and boil for 10 minutes until soft. Drain. Using a fork, mash roughly leaving it quite chunky.
2. In a large frying pan, melt the butter and oil. Add the garlic, cooking for 2 minutes. Add the kumara and cook until crispy. Toss in the kale, rosemary and capers and continue to cook until the kale has wilted. Add the zest and juice.
3. Heat another pan with a little butter. Cook the fish fillets for 3 or 4 minutes each side or until cooked through. Season with salt and pepper.
4. Place kumara on plates and top with fish. Serve with a squeeze of lemon and lemon wedges.
Share this:
More Food & Drink / Dinner