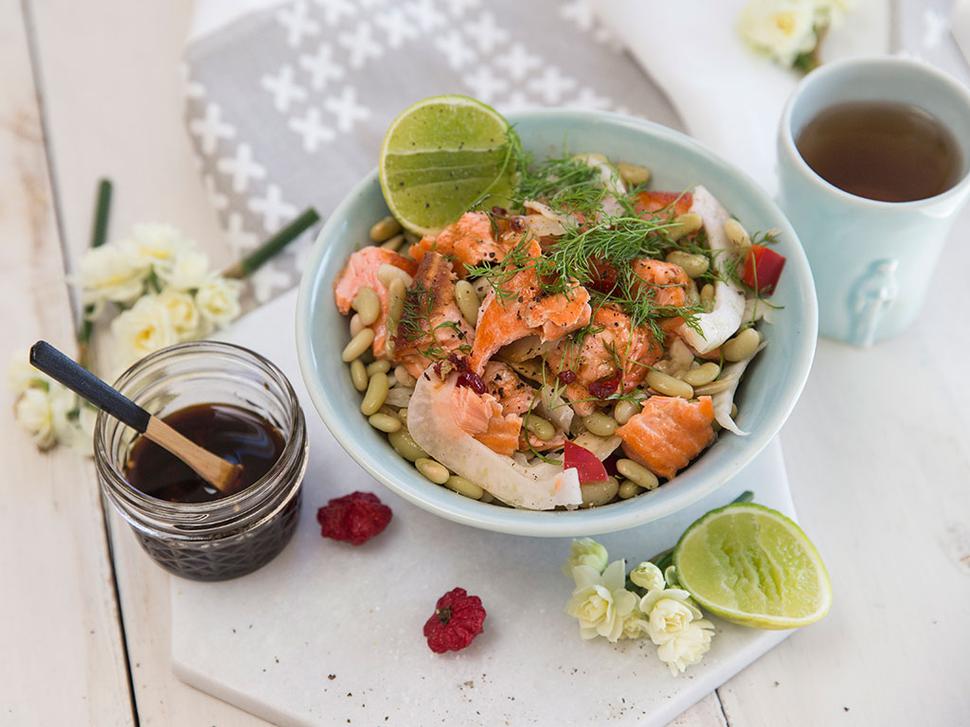 3 Healthy Salad Recipes
Kiss winter goodbye with Angela Casley's spring salads
Saturday Aug. 22, 2015
Spring is nearly here. Don't you love that feeling? Knowing the worst of winter is over, the mornings are starting to lighten a little earlier and you arrive home in daylight instead of dark. Food shops are also starting to fill with spring produce, bringing fresh inspiration above and beyond broccoli and cabbage (although I love both). A few of the softer herbs are also gracing the shelves, ready to add interest to your salad.
Personally, I don't like salads straight from the fridge. As with fruit, I like to eat them at room temperature. I also like to add some rare beef, slow-cooked lamb, fish or chicken to transform them into the main event.
After discovering some beautiful imported flageolet beans at Sabato, I was inspired to make this fennel and flaked salmon salad. To keep the fennel crunchy and green once it is sliced, place in a bowl of water with a squeeze of lemon. The dressing is sticky and delicious. Stir it through a few minutes before serving to let the flavours seep through.
Raw food is in vogue right now and full of goodness.
After a winter of hot soups, I'm always craving a good crisp salad like this one packed with carrot, beetroot and parsley. It's not completely raw because of the lentils, toasted sunflower and pumpkin seeds that add extra crunch. The cranberries work to add a yummy sweet surprise.
New season asparagus tastes delicious and looks quite rustic as it varies in size. This asparagus and orange salad is a tasty meal on its own. The prosciutto can be salty, so be careful not to add extra salt to the salad until it is all combined, while the eggs and avocado add a lovely creamy texture. A warm poached egg is also heavenly served on top.


Recipes 
• Flageolet Beans with Fennel and Flaked Salmon
Share this:
More Food & Drink / Recipes