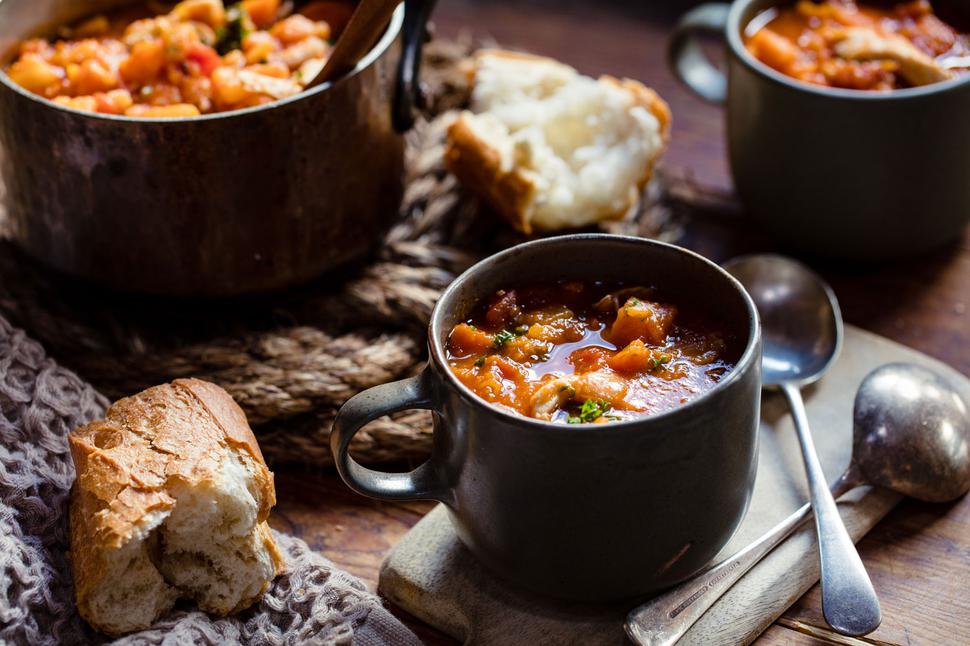 Hearty Chicken & Vegetable Soup Recipe
This recipe shows just how good a simple soup can be
Sunday July 26, 2020
This chicken and vegetable soup recipe is a hearty mix and the perfect way to use leftover bits and pieces from the vegetable drawer. Leave it chunky, puree it briefly or simply mash with a fork to break up the bigger bits. At our house, there is often a pot of this soup on the go at home for hungry mouths to enjoy when arriving home from work and in need of a quick fix on a cold evening. All that's needed to go with it is some warm crusty bread with loads of butter.
HEARTY CHICKEN & VEGETABLE SOUP RECIPE 
Serves 4-6
1 Tbsp butter
1 Tbsp oil
1 onion, chopped
2 cloves garlic, crushed
1 parsnip, peeled and chopped
1 carrot, peeled and chopped
300g pumpkin, peeled and cubed
4 organic chicken thighs, skinless, bone in
1 litre chicken stock
420g tin chopped tomatoes
1 tsp brown sugar
1 tsp mixed dried herbs
½ cup chopped parsley
Salt and freshly ground pepper
Serve with crusty bread and butter
1. In a large pot heat and butter and oil. Add the onion, garlic, parsnip and carrot. Cover and cook for 5 minutes.
2. Add the pumpkin, chicken, stock, tomatoes, sugar, herbs and parsley. Bring to a simmer and cook until the vegetables are soft, about 20 minutes. Remove the chicken thighs and shred the meat from the bone, returning meat to the soup. Discard the bones.
3. Season with salt and pepper.
4. Serve with warm crusty plain or garlic bread.
Share this:
More Food & Drink / Recipes