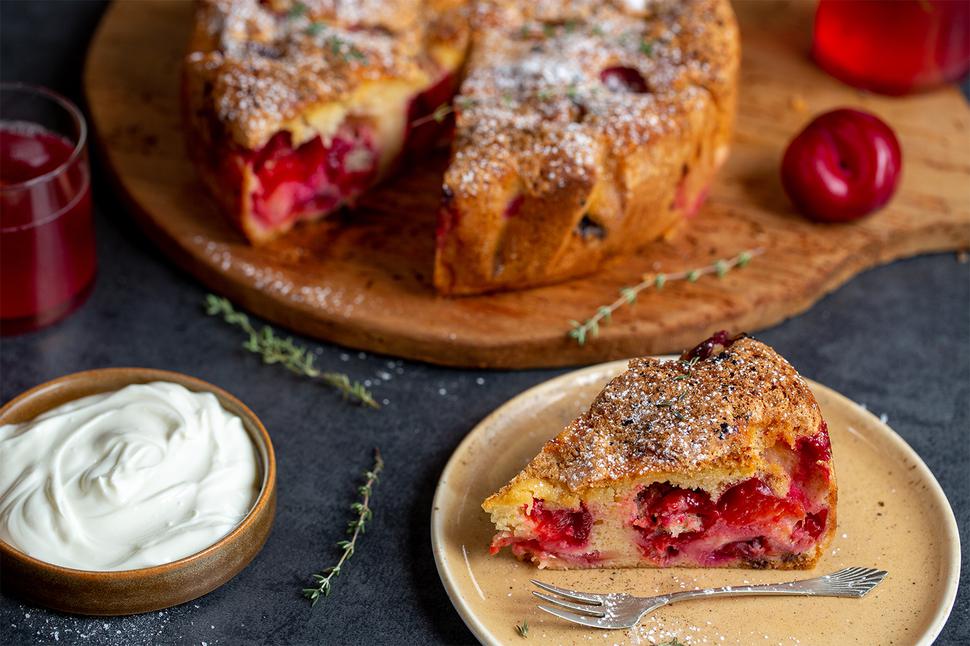 Heavenly Italian Plum Cake
This rustic cake is simply delicious served with rum-soaked raisins and a scoop of vanilla ice cream
Saturday Feb. 1, 2020
This dessert is a heavenly combination in which juicy plums are served in a light cake batter. I like to serve it with some extra rum-soaked raisins and a creamy vanilla ice cream, although, it is just as good on its own for afternoon tea.
ITALIAN PLUM CAKE RECIPE 
Serves 8-10
3 eggs
1 cup sugar
50g butter, melted
1 ½ cups flour
2 tsp baking powder
Zest of 1 lemon
Pinch of salt
½ cup raisins, optional, soaked in 2 Tbsp of rum
12 plums, stones removed
¼ cup demerara sugar
Yoghurt to serve
Icing sugar to dust
1. Preheat an oven to 180C. Grease and line the base of a 20cm tin.
2. Beat the eggs and sugar until light and creamy with an electric beater. Add the butter and beat through.
3. Fold through the flour, baking powder, zest, salt and raisins.
4. Slice half of the plums thinly and fold through the mixture. Pour into the tin and spread evenly.
5. Keep the remaining plums in halves and arrange on the top of the cake. Some will sink a bit as it cooks but that is fine. Sprinkle with the demerara sugar. Place into the oven for 1 hour or until light and spongy to the touch. Cool in the tin.
6. Serve with a dollop of yoghurt and light dusting of icing sugar.
Share this:
More Food & Drink / Recipes