Hemsley + Hemsley: the whole-food queens
Wellness entrepreneurs Jasmine and Melissa Hemsley on their love for bone broth, "courgetti" and breakfast butternut.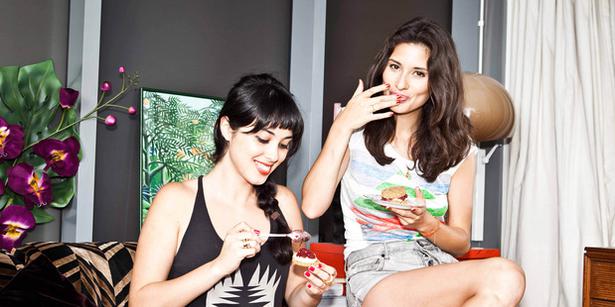 Tuesday Feb. 3, 2015
Genetically blessed, business-savvy, glowing with health, and nice to boot. Sisters Jasmine and Melissa Hemsley could be the UK poster girls for the whole-food movement.
The former model (Jasmine) and fashion brand manager (Melissa, who also worked in marketing for the hospitality industry) cook, consult and cater for high-profile clients and events.
Their blog, Hemsley + Hemsley, has a cult following, and has led to contributions in the Telegraph, the Guardian and, most notably, vogue.co.uk (Vogue asked them to contribute within two weeks of their blog's launch).
Now they have a bestselling book, The Art of Eating Well, and a second book in the works. They've even produced a Hemsley + Hemsley Spiraliser, to help fans create their famous "courgetti" and other spaghetti-style vegetable dishes.
We asked the women about their approach to a healthy, balanced life.

What are you working on at the moment?
The past few years have been such an incredible and opportune time for us. We are so humbled to be able to work with such incredible people every day. Working with clients on a daily basis and helping them feel healthier and happier is the best feeling. After the wonderful response to our first book The Art of Eating Well with over 150 recipes, our readers have asked for more so we're now working on our second book. We're having a great time in the kitchen and when we're finished we'll be looking forward to visiting Europe, America, Australia and, last but not least, New Zealand for demos and talks - we can't wait to explore the food scene.

Describe an average day.
We are so lucky to be able to spend every day focusing on what we love and are passionate about, no matter how busy we are with written projects, deadlines and shoots. Recipe testing is a huge part of our world and allows us to perfect flavours and make dishes simpler. We encourage people to get in the kitchen and cook by ensuring the food is delicious as well as nutritious with one pot techniques for minimum washing up and batch cooking for ease.
When we're not recipe testing, we'll be cooking for clients and let's not forget ourselves. We need to eat too. In the digital age, things like social media never sleep so we break up the little projects of the day by engaging with our audiences on social media. So much of the work we do and recipes we develop are heavily influenced by requests from our friends, family, clients and the broader community.
We love receiving recipe requests, seeing images of people cooking our recipes and enjoying our food. Social media is such a beautiful way to share a mutual love of food with others. To relax and wind down, we always make time for meditation and exercise (see below). 

What keeps you inspired?
Our clients and readers inspire us as they challenge us to come up with supercharged versions of their favourite foods. The farmers' markets are always inspiring for food - meeting people who are passionate about their produce and hearing the story behind it and their favourite way to cook and eat it. There are plenty popping up around the city especially near Jasmine who lives between the famous Borough Market, the multicultural East Street Market and Kennington farmers' market, which has really grown in the past few years.
We travel as much as we can. Our last trip together was to Cambodia and we were taught traditional Cambodian dishes like beef lok lak, fish amok curry and pomelo salad that we fell in love with and tried to recreate for our mum and dad as soon as we got home.

How do you de-stress?
We're very big believers in balance and finding time to look after ourselves and our bodies so that we are equipped to take each day as it comes, to calm our nervous systems and to reset.
Meditation has made our lives better in many ways and it allows us to feel relaxed, calm and focused. It's clearing and clarifying and an important tool in looking after the mind and allowing it to regenerate. Getting outside every day for fresh air and being with nature if possible - just taking a few minutes to sit still helps you approach day-to-day life with a sense of fun rather than letting it all run away with you.

Do you have an exercise routine or a favourite form of exercise?
Melissa loves Frame in Shoreditch for their popular "Dance like Beyonce" classes. They're a fab way to keep fit while having lots of fun. Jasmine loves Voga - it's fun and fast. It's yoga plus "vogueing" and it's a great low-impact aerobic workout - the brainchild of our friend Juliet Murrell. Everyone we've taken gets hooked.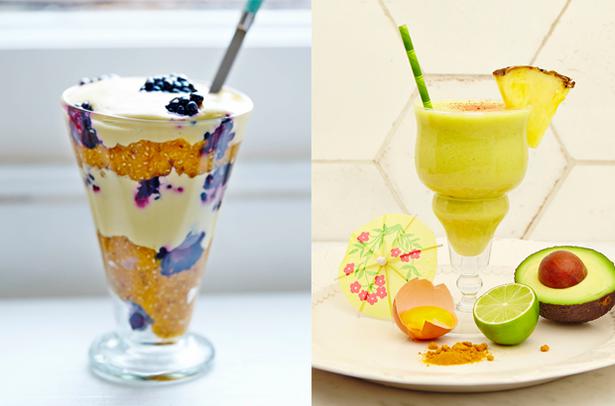 Your business is based on healthy eating - do you ever have days where you want to eat junk food?
It's healthy food but not as you know it! It's so delicious that you forget its good for you. Our food is free from gluten, grains and refined sugars, instead focusing on unprocessed foods, good fats and bone broth. We always get asked this question (we understand why!) but with our reworked comfort foods we never really feel like we're missing out on anything or that we need junk food.
Our recipes are varied and full of flavour and nourishment so we don't "crave". We make delicious succulent burgers whether it's grass-fed meat or from black beans and feta, enjoy celeriac chips cooked in ghee and delicious puddings and pizzas that all hit the spot. Recipes such as our black bean brownies or avocado and lime cheesecake (free from gluten, grain and refined sugar) are delicious and nutritious sweet treats.
If we're eating out then we choose somewhere with a real food ethos but if we can't pick then we don't stress. Eating well most of the time means that we're better equipped to deal with eating out at restaurants, events, and in situations where we may have limited choices as well as the occasional croissant.
We have an 80/20 guideline. The human body is amazing and if you feed your body the good stuff 80 per cent of the time it can cope a lot better with the bad stuff. The trouble is a lot of people have the ratios flipped and that's when you start to encounter problems. In avoiding processed foods you can steer clear of the guilt and discomfort often associated with it - make eating well a consistent part of your life and enjoy the not-so-good for you pleasures now and then. 

What are your essentials to living life well?
Taking care of yourselves and others. We believe that eating real, unprocessed and nourishing food allows you to live a healthier, happier, more energised life. The Art of Eating Well is just that. Wellness begins from within and we feel best on delicious, home-cooked food that nourishes us and makes us feel our best. Cooking with love and eating well, getting outside every day, turning off your phone and making sure you step away from your laptop and TV, meditating, reading lots of books, doing what makes you feel good and getting lots of sleep are all essential in "living life well" for us.

What are you reading, watching and listening to at the moment?
Melissa: I've just finished reading The Miniaturist by Jessie Burton and I'm looking forward to starting I am Pilgrim by Terry Hayes. Listening to lots of TED talks (I love to have them on while I'm cooking so I'm learning as I make my supper) and music wise, I just saw Neon Waltz play and they will be huge in 2015.
Jasmine: I'm rereading The Vegetarian Myth - I have lent it out so many times and finally gotten it back so I ended up starting it again. I read this when I'm on the Tube or bus - not in bed as it will get my brain fired up. I'm also reading Caitlin Moran's How to Build a Girl, which is laugh-out-loud funny (also not good for bedtime because it's hard to put down). I'm listening to AlunaGeorge and Lia Ices on Spotify.

Describe any skincare, healthcare or beauty routines you have.
What you put on your skin is as important as what you eat. In the morning: tongue scrape and dry body brush, then start oil pulling with sesame oil as you shower. Apply a few drops of Pai rosehip oil (they also do great facemasks), Tata Harper eye cream and de Mamiel rose lip balm.
We like Ilia mascara, RMS lip to cheek, Vapour Organic lipstick and Priti NYC nail varnish. Melissa likes W3LL People pencil liner and Jasmine likes Jane Iredale liquid liner. In the evening, remove eye makeup with good old cold-pressed coconut oil and a warm damp cloth then deep cleanse with Alexandra Soveral Angel balm.
When we were growing up neither of us liked baths, always showers. Now we know what we've been missing out on. A relaxing treat is a soak in tub with a good handful of detoxifying bath salts and a gorgeous non-toxic candle scented with aromatherapy oils by Aromatherapy Associates or Neom. If we're feeling under the weather we'll add a strong infusion of ginger tea to help sweat it out.
For a natural body moisturiser we like a homemade blend of sesame and sweet almond oils scented with lavender or mandarin essential oil applied to damp skin. Coconut oil makes a great deep moisture treatment for skin and hair.
Sleep is important for skin so a bedtime routine is important to help wind down properly for an optimum night of repair - turn out the lights, play your favourite music and escort laptops and mobile phones out of your bedroom. Light a Neom Organics lavender, rosewood and jasmine candle and turn your room into a sanctuary.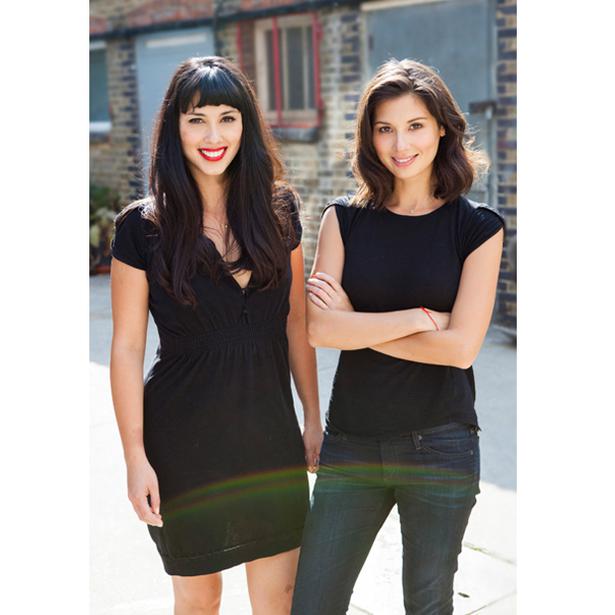 What's your ultimate way to spend a day?
Jasmine: I love taking time on the weekend to explore new areas and spend time outdoors with my boyfriend Nick Hopper (business partner of mine and Mel's and photographer for our website and book). That may mean exploring a new market, taking a 40-minute walk into town, a trip to the Tate Modern or a drive out of town. We're both members of the National Trust - a little middle-aged of us but we have been for 10 years, ha ha!
In the evenings we like to travel to catch up with friends for long, relaxed dinners at their houses or explore new local restaurants, enjoying good food in good company. A great night out with girls one night of the week would be Voga or the Secret Yoga Club (incredible pop-up yoga, food and music evenings in stunning locations around London.) A lovely night out that isn't accompanied by a sore head.
Melissa: I'd start with a morning meditation and a lovely breakfast sitting outdoors somewhere - I love eggs so something like shakshuka eggs or our version from our book which is called Anytime Eggs (as I'd eat it anytime!). Then a long lazy walk somewhere like Hampstead Heath with my boyfriend and his blue staffordshire terrier puppy, then ballet (preferably starring Carlos Acosta) in the early evening and supper with friends and some great red wine.

Do you have a mentor, guru or spiritual philosophy that you follow?
Meditation as taught to us by Gary Gorrow. Meditation is one of the best tools we have ever learned and we practise daily even if it's only for 10 minutes on the train or the bus. In autumn 2014, we hosted an urban retreat with him and our dear friend Yasmin Sewell called the Mind Body Reset.

What is your current obsession?
Kombucha cocktails. After the Christmas and New Year festivities it's nice to drink a glass of something bubbly with friends that is refreshing and nutritious. And pinning on Pinterest! Our newest board "How to Eat Well in 2015" is full of healthy eating ideas for the year ahead.

Do you have a favourite or essential item of clothing?
Melissa: I like to feel comfortable and get dressed quickly so I keep it simple. I'm either in sports leggings and a soft T by Alexander Wang T-shirt or vest (that way I'm always ready to go to yoga too if I get time!) or a Diane von Furstenberg dress. I also love my Victoria Beckham sunglasses.
Jasmine: I go through periods of vintage shopping, online shopping, high street and boutique but I love it best when I get great hand-me-downs from my friends in fashion - no decisions required. I do seem to have rather a lot of hats, coats and boots though - not sure why all the winter clothes when what I actually love is the summer. Maybe it's my way of coping! 

What are your grocery essentials?
From the shops:
• Eggs
• Butter
• Watercress
• Broccoli
• Ginger
• Garlic
• Livers - we love pate and add livers to ragus and stews.
• Lemons
• Miso paste
• Cauliflower - we turn it into mash, "rice" and pizza.
• Good quality meat - we love the "less fashionable" cheaper cuts that we slow cook.
• Chicken carcasses and beef bones to make good broth - see below.
Always in our fridge:
• Home-made bone broth. Nutrient-rich bone broth is at the heart of all our cooking. It's the first thing we teach new clients and is a kitchen essential. We'd feel lost without it. This nourishing food is simple and cheap to make and makes everything taste amazing.
In our cupboards:
• Extra-virgin coconut oil for baking, roasting, frying and adding to smoothies
• Extra-virgin olive oil for dressings and dips
• Mung beans - cheap and great for stews, soups, dips and for sprouting. We make "mung dahl" - simple, delicious and soothing.
• Ground almonds for baking gluten- and grain-free savoury and sweet foods
• Tahini (sesame seed paste) for dressings, sweets, hummus and sauces
• Tamari (gluten-free soy)
• Proper sea salt
• Ghee for frying
• Spirulina for smoothies
• Black beans for making our infamous black bean brownies
• Sardines - a delicious high protein snack packed with omega-3. We love to make sardine butter or add to a puttanesca and serve with courgetti.

• The Art of Eating Well by Jasmine and Melissa Hemsley is $67.99, Ebury Press, distributed by Random House. 
Share this: