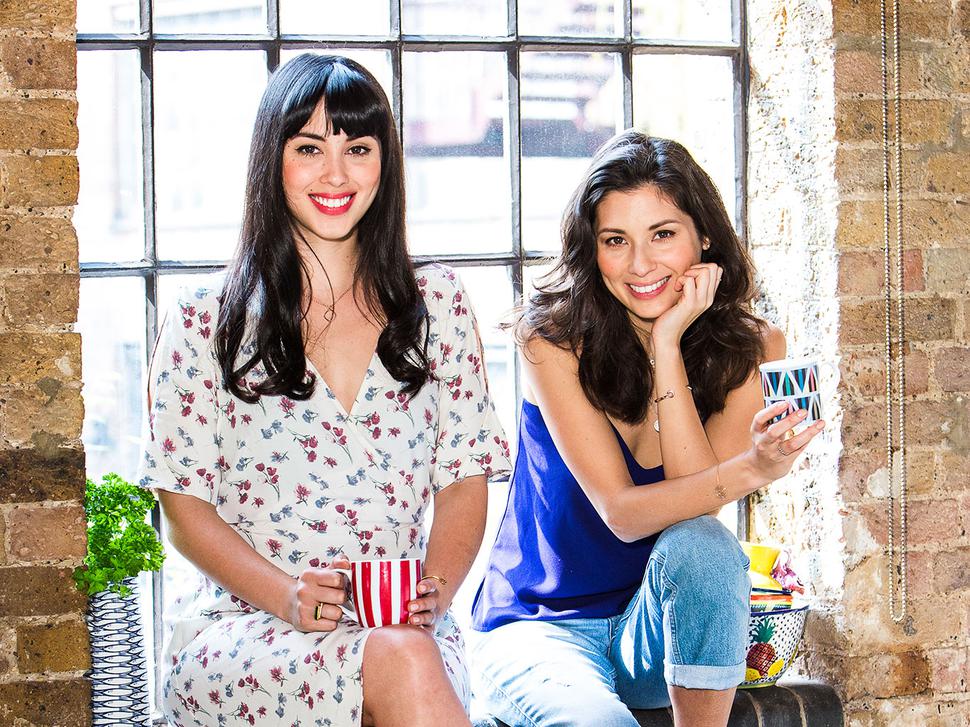 The Hemsley Sisters' New Cookbook
Jasmine and Melissa Hemsley are sisters who are taking on the world of wellness, one spiralised courgette at a time with their new book Good + Simple
Wednesday March 9, 2016
The glamorous Hemsley sisters are back with a new book highlighting their approach to healthy eating. Jasmine, a former model, and Melissa, a fashion brand manager, have carved out a career at the forefront of the UK's wellbeing scene after launching a bespoke catering business to the rich and famous, developing a blog, becoming contributors to Vogue.co.uk, and publishing a worldwide bestseller in their first book The Art of Eating Well. The driven pair has just opened their first cafe in Selfridges in London and launched their new cook book, Good + Simple ($65, Ebury Press), which explores their philosophy of wholesome, home-cooked food, presented in a way that makes it accessible for people with busy lives.
Tell us about your food philosophy.
We believe in simple, wholesome, home-cooked food. All our recipes are free from gluten, grains, refined sugar and hydrogenated vegetable oils — but big on flavour. We love meat, fish, fruit, veggies and natural fats and champion whole foods that are packed with nutrients and taste delicious. We avoid refined, starchy and heavily processed carbohydrates and replace them with a feast of complex carbohydrates such as vegetables, legumes, pseudocereals, nuts and seeds, for greater nutritional value.
Our way of eating doesn't involve counting calories — it's not a fad diet — instead we focus on eating nourishing and nutritious food that makes you feel like the best possible version of yourself inside and out, hence our motto: Good food, good mood, good digestion, good health.
Provenance is key when it comes to our ingredients and we always choose organic, free-range, pasture-reared produce whenever possible, choosing food that is naturally grown, free from chemicals, genetic modification and pesticides.
What is Good + Simple all about?
It's all in the name. Good + Simple is about making good, healthy eating easy, affordable and completely stress-free. Modern life can be so fast-paced and increasingly people are under the impression that eating well and looking after yourself is difficult, time-consuming and expensive; in Good + Simple, we prove that this just isn't the case. 
We strip back the principles of our food philosophy and make it even easier for people to feel healthier, happier and more energised by making small adjustments to their eating habits that will ultimately make a huge difference to their lives. We showcase 140 new recipes that are affordable, quick and super simple to make — no matter how skilled you are in the kitchen or how busy you are at home and in work.
How is this book different to your previous book?
The Art Of Eating Well was an introduction to our food philosophy and explores all the amazing and inventive recipes that you can enjoy while eating well. It explains the core principles behind our way of eating: avoiding grains, gluten and refined sugar; embracing nutrient-dense food, animal products, healthy natural fats and plenty of fresh veg; key techniques of basic food combining and the importance of choosing good quality ingredients.
Good + Simple builds on the foundation of The Art Of Eating Well, making our way of eating well so easy and enjoyable that it can be incorporated into your daily life simply and without any stress. We manage this with our quick and simple recipes, as well as loads of suggestions for food on-the-go, packed lunches and fast evening meals which have been carefully created to make it easy for you to fit healthy eating into your day-to-day schedule. We also include meal plans with shopping lists, a one-week body reboot, instructions for a Sunday Cook Off, plus tons of tips and tricks for packed lunches, eating well on-the-go and making full use of your freezer and leftovers.
What's your favourite recipe from Good + Simple?
Jas: I don't think I can pick just one… I'm particularly proud of our Flaxseed Buns because it's a brilliant gluten and grain-free recipe that tastes and feels like real bread — which is something everyone seems to miss when they stop eating gluten.
We've been testing bread recipes for years in an attempt to hit upon a really good alternative to regular wheat bread and this definitely ticks all the boxes. These buns are great for bringing filled sandwiches on the go, used as burger buns and can also be baked focaccia style. We also have an amazing Quinoa and Courgette Loaf, which is packed with protein, tastes delicious and is great toasted.
When we brought out The Art Of Eating Well, our Avo Lime Cheesecake quickly became one of our most famous recipes, because nobody could believe that you could make such a delicious, sweet dessert from avocados. This time around, my favourite sweet treat would probably be our Cannellini Sponge Cake, a super light and fluffy sponge, made with cannellini beans. Topped with a rich chocolate and avocado frosting and even lighter than a normal sponge
— it's the ultimate in refined-sugar free baking.
Mel: One of the recipes that I'm sure will be a winner is our BBtella — a healthy Hemsley twist on a classic childhood chocolate and hazelnut spread. Free from refined sugar and full of fibre, protein and vitamins, ours is made with black beans and tastes even closer to the original, rich and dark chocolate spreads that you'll find in Italy. Kids (and adults) will love it, and they don't have to know that it's good for them.
And because I love a good stew, Mum's Beef Sinigang is another one of my all-time faves. It's a dish we grew up with so it's real nostalgia food for me; real, honest-to-goodness home-cooking that's so simple, tastes amazing and is packed with flavour and — our key ingredient — nourishing bone broth. It's pure comfort food, I always double or triple the quantities so I have plenty of leftovers, because I'd happily eat it for a week.
Tell us about bone broth and why it is so important to you.
Bone broth is our secret weapon and an essential ingredient in lots of our recipes. It's an all-rounder in the kitchen; we use it to make soups, stews, sauces, gravies — but we happily drink it on its own too. Not only does it give dishes intense flavour, unlike store-bought powdered stock cubes or jellies, bone broth is packed full of natural nutrients, vitamins, minerals, collagen and keratin making it great for your digestion and also for your skin, hair and nails. It's a gut-healing, easy to digest source of nourishment and energy that's at the heart of our philosophy. It's delicious on its own and particularly as a pre- or post- workout snack — we drink it straight, add in ginger or miso for flavour and often throw in some seaweed for extra nutrition.
What's the inspiration behind your recipes?
These recipes are really our everyday favourites — the ones we come back to time and again because they are so easy but totally satisfying. We take a lot of inspiration from our mum's cooking because that's what we grew up with; she's Filipina so you'll see a lot of those lovely, tangy Asian flavours in our Green Goddess Noodle Salad and Asian Short-Rib Stew.
Some of our recipes are classic dishes with an H+H twist and some are childhood favourites that we've reinvented. We're often challenged by our friends and family to create new dishes based around a particular ingredient or theme, and we're always inspired by our readers and clients who ask us to take their favourite foods and reinvent them while making them taste just as good as the original — like our Blueberry Muffins and Tahini Date Fridge Fudge.
We're also big fans of travelling and we love discovering the new culture, cuisine and ingredients of every place we visit and we end up incorporating a lot of these new discoveries into our recipes. In Good + Simple, for example, we've got a delicious and really simple Cambodian Fish Curry that everyone loves, taught to us by a chef we met when we were in Cambodia.
To start eating well, what are the three things you recommend doing? 
1. Swap refined sugar for natural sugars. Everyone knows that eating lots of refined sugar can be terrible for your health and it's much easier to avoid than you might think. If you have a real sweet tooth, try to wean yourself off refined sugar by substituting it for small amounts of natural sweeteners, like raw honey, maple syrup, dates or other fruits; these will satisfy your sugar cravings without having the same roller-coaster effect on your blood sugar levels that refined sugar will have, and it'll work out much better for you in the long run. Remember though, that even natural sweeteners do contain sugar, so it's still best not to have too many of these in your diet.
2. Replace refined carbs like bread, pasta, noodles and rice with more whole foods, fruit, veg and natural fats. As well as spiralised vegetables, a great alternative to rice or couscous is cauliflower or broccoli rice, which takes literally five minutes to prepare, is full of nutrients and tastes delicious. Vary your diet by including pseudocereals like quinoa, buckwheat and amaranth, which are a great whole food alternative to other refined carbohydrates.
3. Forget hydrogenated vegetable oils and start using coconut oil, ghee and grass-fed butter for frying and baking. Save the extra virgin olive oil and cold-pressed oils for drizzling over the finished meal in their raw state, in order to preserve their natural flavour and nutrients, which can be destroyed when they are used for cooking at a high temperature.
There is more to what you do than just food — what is your "wellness" philosophy?
Good food and eating well is integral to your overall sense of well-being, but it must be balanced with other essential factors. Getting plenty of good-quality sleep, enough exercise and keeping yourself really well hydrated are also extremely important to achieving a healthy, happy lifestyle. We try to meditate for at least 20 minutes every day to stay focused and grounded. It's about looking after your mind, body and spirit — the three go hand-in-hand. We encourage mindful eating, which means slowing down, chewing properly and enjoying all the flavours and textures of your food, as well as appreciating your surroundings and the company of the people you're with.
What does a typical day look like for you both?
There's no such thing as a typical day really — every day is very different, but that's great. From one day to the next we might be recipe developing and testing, on a photo-shoot, at an interview, curating a menu for a large event, cooking for a private client or on the road at events or festivals doing book signings, demos, talks, or even hosting a cooking class. Whatever we're up to on an average day though we always try to fit in some exercise — a class or at the very least 20 minutes of yoga — and 20 minutes of meditation to keep us feeling our best.
Melissa and Jasmine Hemsley share two recipe from their new cookbook Well + Good:
• Flaxseed Buns
• Green Goddess Noodle Salad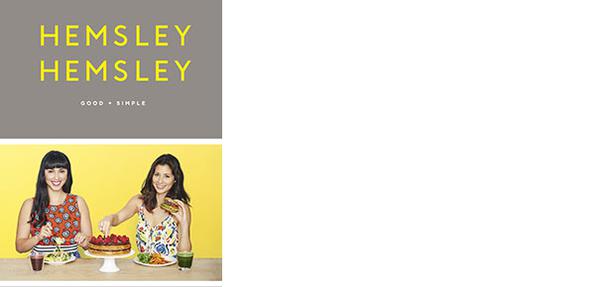 Share this: