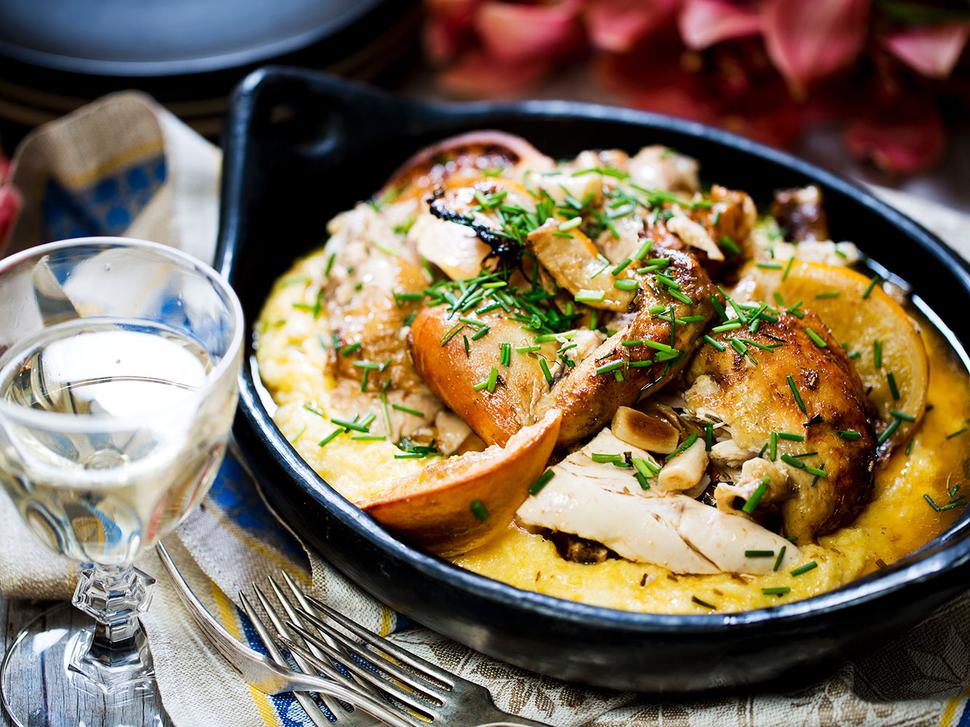 Herb & Miso Chicken With Creamy Polenta
You'll never get tired of this moist and delicious miso chicken
Friday June 23, 2017
I never get tired of this creamy, moist and super delicious miso chicken. Splitting a chicken in half means it cooks faster, so you can spend more time relaxing over a chilled glass of white wine after work. Just let the chicken fall from the bone into the juicy goodness of the miso broth, and serve with the creamy polenta and perhaps some broccoli on the side.
HERB AND MISO CHICKEN RECIPE WITH CREAMY POLENTA
Serves 4-6
1 organic chicken, split down the middle
¼ cup miso paste
2 Tbsp chopped rosemary
1 Tbsp chopped chives
Salt and freshly ground pepper
1 onion, peeled and cut in quarters
1 bulb garlic, halved
2 lemons, cut into wedges
1 cup chicken stock
1 cup white wine
200g polenta
2 Tbsp butter
½ cup grated parmesan
Garnish with 1 Tbsp chopped chives
1. Preheat and oven to 180C.
2. Wash and dry the chicken. Place it on a lined roasting dish of a size that will have the chicken surrounded by the juices. In a small bowl mix the miso, rosemary and chives. Smooth over the chicken skin. Season with salt and pepper.
3. Around the chicken place the onion, garlic, lemon, stock and wine. Place into the oven for 50 minutes to 1 hour until the juices run clear. Cover if the chicken is getting too brown. Remove from the oven and let sit for 10 minutes.
4. Cook the polenta according to the packet instruction. To this add the butter and parmesan. Season with salt and pepper.
5. Place the hot polenta on a serving dish. Using two forks pull the chicken apart and place onto the polenta along with the juices, onion, garlic and lemon wedges.
Share this:
More Food & Drink / Recipes