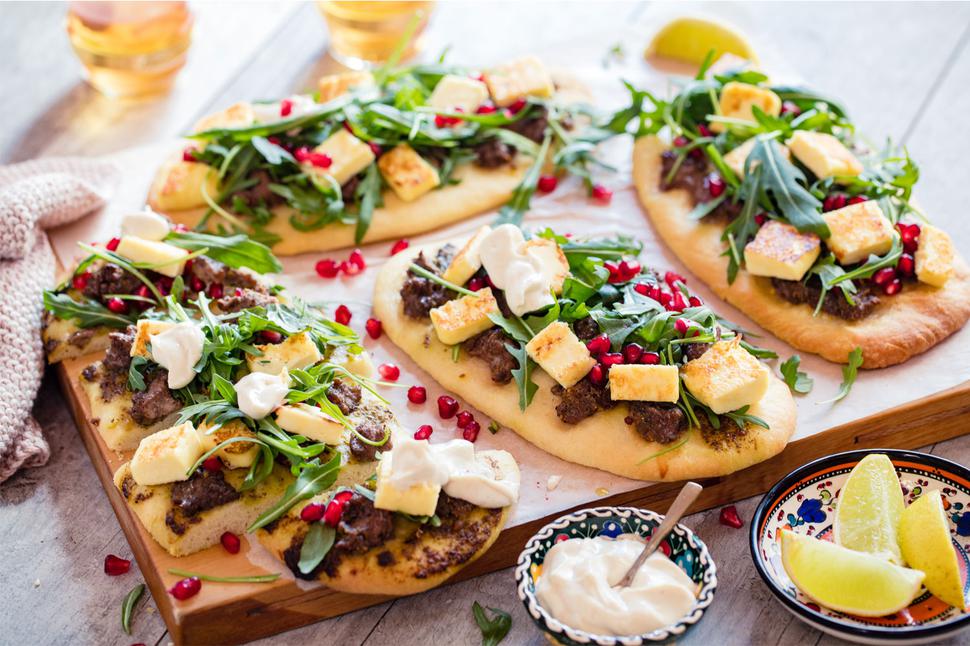 Homemade Turkish Bread With Lamb, Halloumi & Pomegranate
Homemade flatbread makes all the difference when it comes to creating this Turkish treat
Friday Aug. 24, 2018
At my house, the smell of fresh dough rising on a weekend morning brings the family together for lunchtime treats. Don't be scared of using yeast, but do make sure it becomes frothy before adding it to the flour. Don't hesitate to start again if this process goes wrong! I have topped these flatbreads with lamb and a delicious yoghurt tahini dressing, but the options are endless. A vegetable version using an array of chargrilled vegetables is also a delicious variation.
TURKISH BREAD RECIPE WITH LAMB, HALLOUMI & POMEGRANATE 
Makes 4
1 tsp yeast granules
1 tsp sugar
150ml tepid water
¼ cup olive oil
1 ½ cups plain flour
½ tsp salt
Topping
400g lamb mince
1 clove garlic
1 tsp sumac
½ cup chopped mint
½ tsp salt
2 Tbsp pesto
2 cups rocket
200g halloumi, lightly fried
½ cup pomegranate seeds
Dressing
½ cup Greek yoghurt
2 Tbsp pomegranate molasses
1 Tbsp tahini
2 Tbsp lemon juice
1. Combine the yeast and sugar in a bowl, then sprinkle over the tepid water. Leave to sit in a warm place until frothy. Add the oil.
2. Place the flour and salt in a large bowl and add the yeast mixture. Combine using a wooden spoon. On a lightly floured bench knead for a few minutes. Place into a clean, lightly oiled bowl. Cover and leave in a warm place to double in size.
3. In a bowl combine the mince, garlic, sumac, mint and salt.
4. For the dressing combine the yoghurt, pomegranate molasses, tahini and lemon juice in a small bowl.
5. Preheat the oven to 200C.
6. Divide the dough into four. Roll each into an oval shape approximately 23cm long.
7. Spread with some pesto, dot over the mince in small clumps. Sprinkle with a little olive oil.
8. Place into the oven for 15 minutes until golden and crispy.
9. Remove and top with fresh rocket, haloumi and sprinkle over some pomegranate seeds.
10. Serve with a drizzle of dressing.
Share this:
More Food & Drink / Recipes