Honey-Roasted Apricots With Vanilla Bean Cream Recipe
Eleanor Ozich shares a stonefruit dessert recipe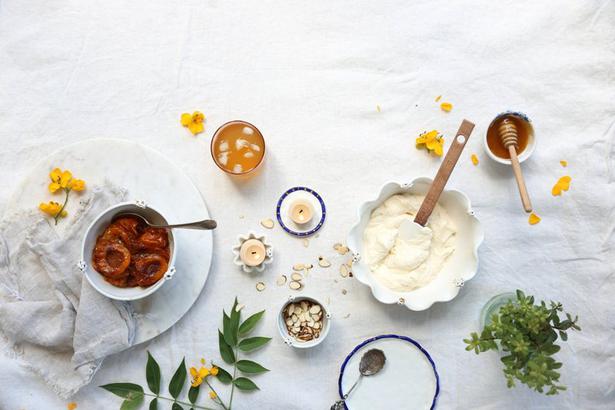 Thursday Feb. 16, 2017
HONEY-ROASTED APRICOTS WITH VANILLA BEAN CREAM RECIPE
These sweet, honey-roasted apricots are like gentle seductiveness, particularly when spooned through billowy whipped, vanilla bean cream. There's a light grating of lemon zest and a dusting of cinnamon, the kind of dessert that wins you over with its softness and deep scent of summertime.
Be sure to select perfectly ripe apricots or the stonefruit of your choosing, to ensure the flavour of the fruit shines through.
INGREDIENTS
8-10 ripe apricots* sliced in half, stones removed
A good drizzle of honey, about 1/4 cup
1 tsp ground cinnamom
Zest and juice of a lemon
1 cup double cream
2 tsp pure vanilla extract
1/4 cup silvered almonds, lightly toasted
* Most types of stonefruit would be lovely here, such as nectarines and peaches.
METHOD
1. Set the oven to 180C.
2. In a mixing bowl, combine the apricots, honey, cinnamon, lemon zest and juice, gently toss to combine.
3. Transfer to a baking dish, and roast in the oven for about 25-30 minutes, or until tender and caramelised.
4. Pour the cream into a bowl, along with the vanilla, and beat until gently whipped.
5. Serve the apricots warm, along with the whipped cream, and a sprinkling of toasted silvered almonds.
Share this:
More Food & Drink / Recipes