A Decadent Honey & Thyme Ice Cream With Figs
Trust us with the honey and thyme. This creamy and delicious dessert is worth a double scoop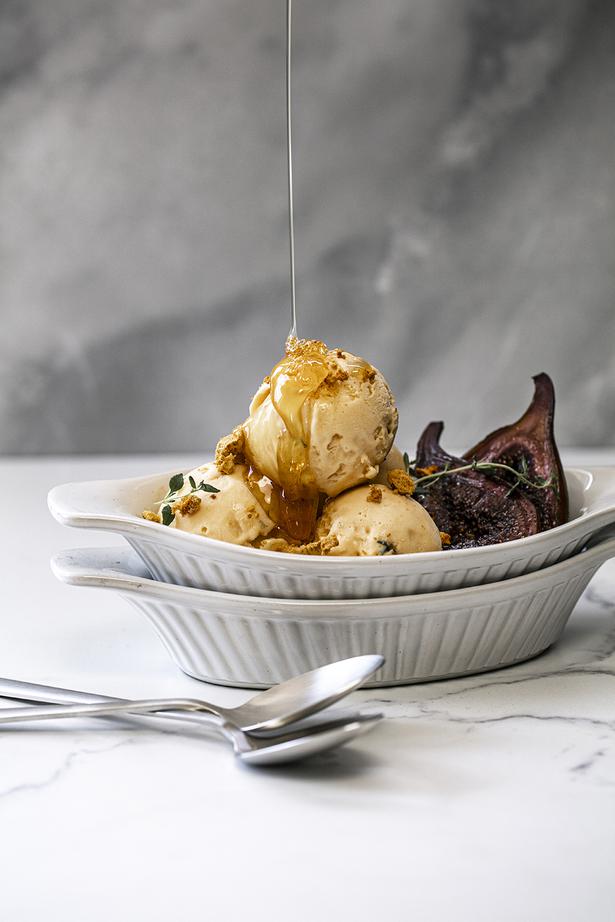 Wednesday June 8, 2022
I've added a good drizzle of Mangawhai Honey to this refreshing dessert, which I picked up from the Saturday Mangawhai market. It has a full-bodied manuka flavour that shines through and pairs wonderfully with thyme. When figs are abundant, this is a great way to use them.
HONEY AND THYME ICE CREAM WITH FIGS RECIPE
Serves 4 
1 cup cream
1 cup full milk
½ cup runny honey, plus extra to drizzle
6 egg yolks
¼ cup caster sugar
2 Tbsp chopped fresh thyme
Figs
4 ripe figs, halved
½ cup port
½ cup red wine
½ cup sugar
Hokey Pokey
½ cup caster sugar
¼ cup golden syrup
1 tsp baking soda
Extra thyme leaves, to serve
1. Into a large pot place the cream, milk and honey, bringing to a boil. Remove.
2. Beat the egg yolks and sugar together until creamy. Slowly pour in the cream mixture, whisking as you do. Return to a clean pot. Heat slowly, stirring until the mixture coats the back of your spoon. Stir through the thyme leaves, pour into a bowl, cover and leave to cool completely.
3. If you have an ice cream machine, churn the custard and place into the freezer. If not, half-freeze the custard, beat, then refreeze.
4. For the figs, in a small pot simmer the port, wine and sugar for 5 minutes. Add the figs and cool for a further 2 minutes until just softened. Cool.
5. To make the hokey pokey, firstly lightly grease a small oven tray. Warm the sugar and golden syrup to dissolve, stirring continuously in a pot. Bring to a boil for 3-4 minutes. Remove from the heat, stir through the baking soda, letting it fluff up. Pour onto the baking tray and allow to cool. Store in an airtight container.
6. Serve the ice cream with figs and crushed hokey pokey. Add a drizzle of honey and extra thyme leaves for the finishing touches.
This recipe was originally published in volume seven of Viva Magazine.
Share this: