Honey Wafers Recipe with Lemon Curd and Berries
Try these tasty little morcels for a sweet dessert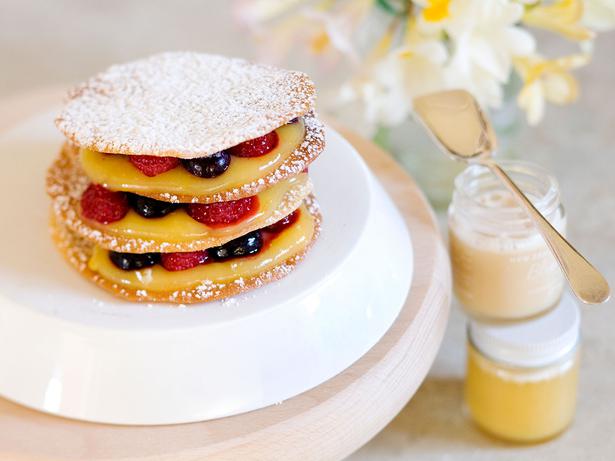 Thursday Oct. 1, 2009
HONEY WAFER WITH LEMON CURD AND BERRIES
Serves 4
Waffers 
80g softened butter 
100g caster sugar 
¼ cup honey 
60g plain flour 
1 egg white
Lemon curd 
50g butter 
¾ cup caster sugar 
1 cup freshly squeezed lemon juice 
2 eggs 
Finely grated zest of 2 lemons
Raspberries 
Blueberries 
Icing sugar
1 To make the wafers; preheat oven to 180C. In a food processor cream the butter and sugar until pale then add the honey, flour and egg white.
2 Blend until the mixture is smooth. Line baking trays then either using a spoon or a spatula, spread the mixture into rounds as thin as possible.
3 Bake for approximately 6-8 minutes or until golden. Cool for a minute then carefully remove with a spatula and transfer to a cooling rack.
4 To make the lemon curd; place a bowl over a saucepan of simmering water. Melt the butter in the bowl then add the sugar and lemon juice, stirring until the sugar has dissolved. Beat the eggs then pour through a sieve on to the lemon mixture while stirring. Add the lemon zest and cook, stirring continuously, until the mixture thickens.
5 To assemble, place a wafer on each plate, top with lemon curd and berries then repeat. Dust top wafer with icing sugar.
Share this:
More Food & Drink / Recipes