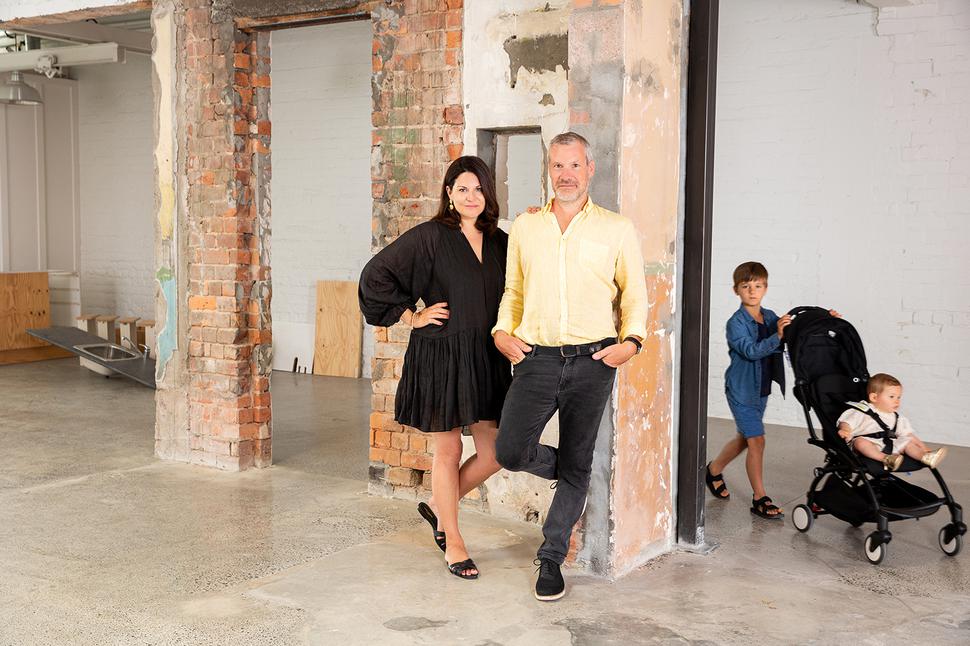 Hospitality Pros Clare & Joost Van Den Berg Are About To Launch A Modern Greek Taverna In Ponsonby
Inspired by Greece's young generation of chefs, and their astonishing food, Daphnes will serve its fare with a twist
Tuesday Jan. 19, 2021
Award-winning restaurateurs Clare and Joost van den Berg are making a habit of dipping their knives and forks into new flavours.
Ten years on from Zus & Zo, which enlivened Herne Bay's Jervois Rd cafe strip, they're about to launch Daphnes, their modern Greek bar/taverna on Ponsonby Rd.
"It's a little gem," says Clare of No. 71. "It's on the sunny side of the street in the afternoon — and that's really important." The transformation of the former Garden Party retail space and a charming, rediscovered courtyard is under way ahead of Daphnes' opening in February.
Daphnes' flavours and ingredients are Clare and Joost's modern twist on traditional Greek food and conviviality in a vibrant, casual setting designed in earthy tones.
There are multiple indoor and outdoor bar and dining options around an open kitchen with chefs cooking at wood and charcoal-fuelled stations.
The two-year project simmered its way through last year's Covid hospitality upheavals, while barely breaking a bubble. Sure, it took them 18 months to find the right venue but Clare and Joost had three other design ideas ready to go depending on their ultimate location.
It is true to form for this couple, whose evolving brand, from their Zus & Zo and Zomer cafes to Odettes Eatery and Hugo's European-style bistro, took its inspiration from wider perspectives.
Daphnes was inspired by their four-month European summer sabbatical two years ago. As with every holiday for the couple, it included places new to both of them. This time it was the islands of Paros and Milos, off the coast of mainland Greece.
Paros in particular got under their skin, with taste sensations from its younger generation of chefs delivered against a backdrop of blue and white buildings draped in crimson flowering bougainvillea.
What intrigued them most were the new variations on traditional Greek fare. "It was the creativity, the feeling, the way the younger generation is working with new, quality produce and flavours, moving away from that very traditional Greek style. It was a very inspiring energy. There was an exciting, creative crowd but with all the same charm, and it was one place that we could both see ourselves living in," says Joost.
They got thinking as they ordered octopus, taramasalata, souvlaki, gyros and saganaki cheese with the accompanying ouzo and Greek wine. Put simply, they returned home to a professional kit full of new possibilities, with renewed family and foodie connections at the heart of it.
As they do on every trip to Amsterdam, Clare and Joost visited Toscanini restaurant, where they met 13 years ago, when Joost was the maitre d' and Clare and her parents were booked for dinner.
That trip also took the pair back to the village near Pouligny-Notre-Dame, central France, where Joost's parents still live off the land, as they did when they raised Joost and his two older brothers in Holland. For the couple's son Harvey, then aged 3, it was precious quality time with his European grandparents.
"We couldn't keep up with the buckets full of blueberries and boysenberries we'd pick each day — and make jam, shortcake and berry pie," says Clare.
READ: Chef Elie Assaf's New Cookbook Pens The Experience Of Traditional Lebanese Dining
On their return home, Clare and Joost threw themselves back into the ongoing success of Odettes, their first venture into all-day dining in 2015 and Hugo's, their European-style, urban bistro, which they opened in 2017.
In 2018, Hugo's won the Designers Institute of New Zealand Gold Pin award for best spatial interior, which has led to Clare's rising profile on the commercial and residential interior design scene.
But it was a trip to Australia, following the November 2019 sale of Odettes and Hugo's, that gave them time and space to let all things Greek find their way to the surface.
In Sydney, Clare and Joost returned to their favourite Greek restaurant, Apollo at Potts Point. Yet another magical experience at Taverna in Kingscliff, up the coast, made up their minds. "We were there looking out across the beach. Harvey was asleep next to us, I was pregnant with Marni and it was, 'Yes! Let's do a Greek restaurant.'"
They loved the Apollo/Daphne connection in Greek mythology and that gave them the name for Daphnes. They consciously chose an English name too. "We didn't want a Greek name because we're not Greek and that was important to us," says Clare.
They've been described as "fearless" in the fiercely competitive Auckland hospitality scene with its plethora of similar Asian fusion restaurants and increasingly discerning clientele. Reeling off the list of new 2020 eateries that have cocked a collective finger to Covid, Clare doesn't bat an eyelid at the competition.
"People say we're so brave doing this in this climate but it's what we know and what we do. What else would we do? Sit it out for another two years?
"It's about going forward with exciting new ideas that strengthen what we do and taking the risk that goes with it."
As for 2021, Joost believes that the industry will slow down and customers will be more selective about where they spend their money.
READ: Doe Donuts Owners Grace Tauber & Shenine Dube's Homage To A Time-Honoured Family Recipe
"Experience and value for money will be most important. Starting a new restaurant at a time like this gives us the chance to start in a cost-effective way and grow with the market," he says.
Unlike most other restaurant owners, neither Clare nor Joost are trained chefs. Instead, they're bringing Clare's background in advertising and film production and Joost's hospitality and marketing experience to the scene.
"We always wanted to do a hospitality project but I needed to have that creative outlet that was the interior design, the aesthetics and the branding," says Clare. "We're a great team, we work really well together and we've learned how to divide our roles as well. Having the right team around you is the key to a successful restaurant."
Yet again, Joost's key role is menu development, this time with Daphnes' head chef Anna Weir, formerly of Amano. Pre-renovations, their test kitchen had been Clare and Joost's own home, where Anna would cook for them all a couple of times a week.
"Anna is incredible and she brings so much to the table with her experience," says Clare.
Around their dining/brainstorming table they'd taste and tweak new flavours and ingredients, all from New Zealand suppliers where possible. "The Greek approach to food resonates with me," says Anna. "While Greek cuisine is simple, wholesome and delicious, there is so much more to it than just food. It's always an opportunity to celebrate, nourish and create a sense of community."
At home, Clare and Joost both love to cook, especially Joost, who revels in the slower pace of home cooking for family and friends. When Clare is baking, Harvey is there helping. Outside, Joost and Harvey get dirt under their fingernails together in Harvey's garden, with tomatoes and cucumbers that he waters every day.
In April, during lockdown, they became a family of four when Marni was born. That enforced time at home was a rare opportunity to stand still, and perfect for family bonding. "It has been energising," says Clare.
As always, Clare and Joost are never far from their favourite cookbooks, including the lavishly produced and illustrated Toscanini Venticinque, from Caffe Toscanini in Amsterdam. Every year on July 24, they will cook a meal from it to celebrate the day they met in 2007 — and where it all began.
Share this: