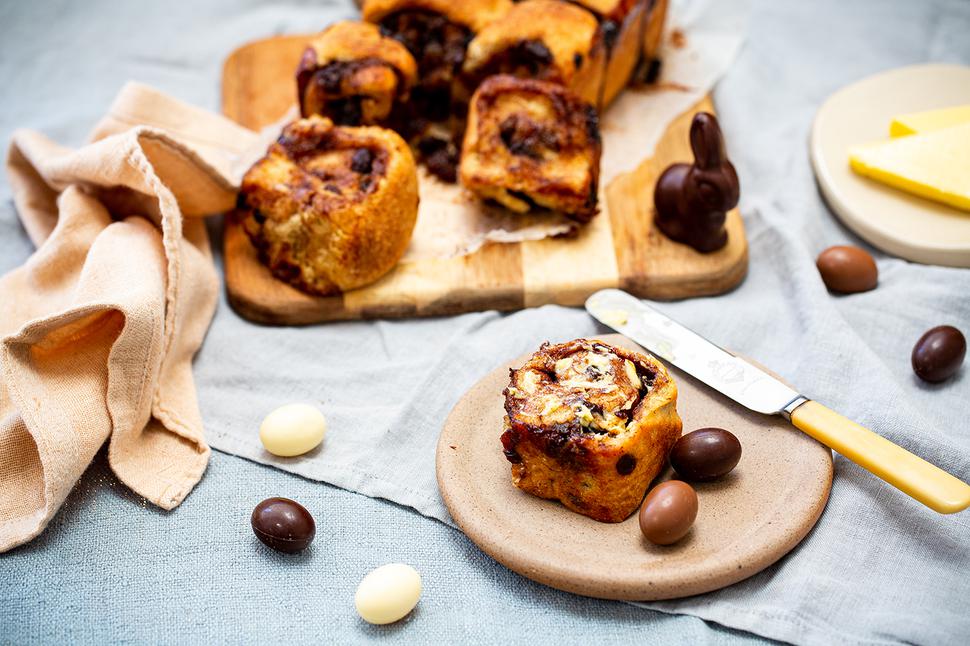 Hot Cross Bun Loaf Recipe
Swap bought buns for a special homemade loaf this Easter — it's a gamechanger
Wednesday March 31, 2021
I love the idea of making this in a loaf tin. It keeps well for a couple of days. A good spread of butter is the finishing touch, added to a piece torn from the loaf while it is warm. Soak the fruit in some brandy for a bit of extra punch.
HOT CROSS BUN LOAF
Serves 8
Dough
1 cup tepid water
2 tsp caster sugar
2 tsp dried yeast
¼ cup flavourless oil
3 cups plain flour
¼ cup caster sugar
½ tsp baking soda
½ tsp baking powder
Filling
1 cup brown sugar
1 tsp cinnamon
1 tsp each ginger and mixed spice
¼ tsp nutmeg
Zest of 1 orange
Zest of ½ lemon
½ cup each sultanas and currants
2 Tbsp melted butter
1. Into a small bowl place the tepid water. Sprinkle over the caster sugar and yeast, letting the mixture sit in a warm place for 15 minutes until frothy. Add the oil.
2. In a large bowl place the flour, ¼ cup caster sugar, baking soda and baking powder. Make a hole in the middle and pour in the yeast mixture. Stir with a wooden spoon to combine well, then tip onto a lightly floured bench, kneading to bring together until smooth. Place into a clean, lightly oiled bowl. Put in a warm spot for 1 hour or until doubled in size.
3. For the filling, in a bowl combine the sugar, cinnamon, spices, orange, lemon and fruit, mixing well.
4. Line a loaf tin with baking paper.
5. Remove the dough and roll out to a 20 x 30cm rectangle. Brush with melted butter, place the fruit mix on the dough then roll from the long side into a pinwheel shape. Slice into 10 pieces. Place the slices into the tin. Cover and place into a warm spot to rise for an hour or until well risen.
6. Preheat an oven to 180C. Brush with a little more butter and bake for 35 minutes or until puffed and golden. Leave to sit in the tin for 20 minutes.
Share this: