Chimichurri Hot Dogs Recipe
Eat this scrummy hot dog with a good sourdough bread after an active day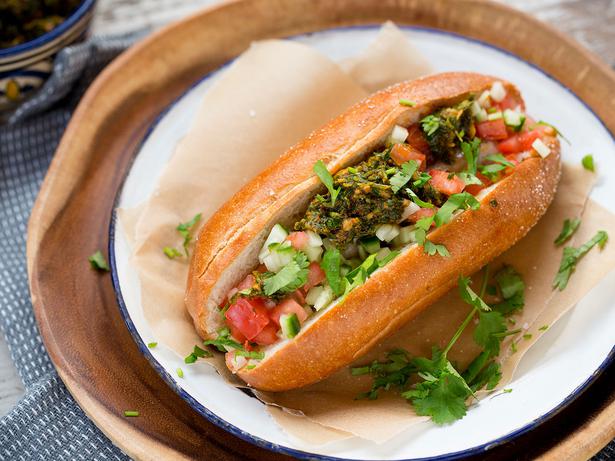 Friday May 19, 2017
Chimichurri hot dogs are scrummy, especially after an active day. A good sourdough bread helps make this a chewy delicious bite for a light evening meal. If you're hungry, allow for two per person. Making the chimichurri ahead of time is wise, as this allows the flavours to develop and makes the final prep for dinner super quick. For a real holiday vibe — and if the weather allows — barbecue the sausages for extra flavour.
CHIMICHURRI HOT DOGS RECIPE
Serves 4
Chimichurri sauce
1 packed cup coriander leaves
1 cup Italian parsley leaves
1 cloves garlic
1 Tbsp paprika
1 tsp ground cumin
1 Tbsp lemon zest
2 Tbsp lemon juice
¼ tsp salt
¼ cup olive oil

Cucumber salsa
½ telegraph cucumber, finely chopped
1 tomato, cut small
¼ cup chopped coriander
Juice of ½ lemon
Salt and pepper to taste
4 pork sausages
4 hot dog rolls — sourdough optional
1. Into a blender, place the coriander, parsley, garlic, paprika, cumin, lemon zest, juice and salt. Blitz until finely chopped. Add the oil in a steady stream. Set aside.
2. In a small bowl combine the cucumber, tomato, coriander, lemon juice and season.
3. Cook the sausages in a frying pan, turning occasionally until cooked through.
4. Split the rolls three-quarters through, then warm in the oven for five minutes.
5. Serve the hotdogs with a good dollop of chimichurri sauce and the cucumber salsa. Enjoy while hot.
Share this:
More Food & Drink / Recipes