Contemporary Design Meets House of Chocolates
Design students creating a buzz with bespoke handcrafted chocolates wrapped in stylish designs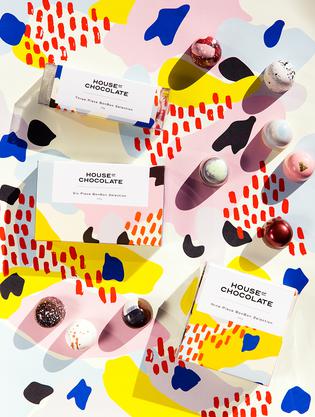 Take two talented design graduates, add them to a boutique chocolate company, and you have a recipe for success that's good enough to eat.
While Thomas Sussex and Marilyn Deare were majoring in fashion at AUT, they began working for House of Chocolates — a small, independent chocolate company run by Thomas' mum Dianne Sussex.
Marilyn says they began working to fill a gap in the market for fun, handcrafted chocolates wrapped in contemporary designs and have since fallen in love with the project.
Their aesthetic has appealed to the likes of Deadly Ponies, Ruby, Blush Parnell and Naveya and Sloane, who have all had bespoke chocolates crafted for their brand.
"This is our second year out of university now and it's been amazing exploring our creative strength and applying our love of fashion design towards chocolate," said Marilyn. "And we're now total foodies."
Available in gift boxes that are almost too pretty to open, their newest flavours of truffles and bon bons — Bourbon Butterscotch, Spiced Cherry, Peanut Butter, Jelly Tip, and Strawberry Mousse — are each flavoured with local, artisan ingredients.
Find House of Chocolate's new flavours in store at Smith & Caughey's, Alex & Corban Home, Shut The Front Door, Paper Planes and Ballantynes, this week.
• Visit Houseofchocolate.co.nz
Share this: