SPONSORED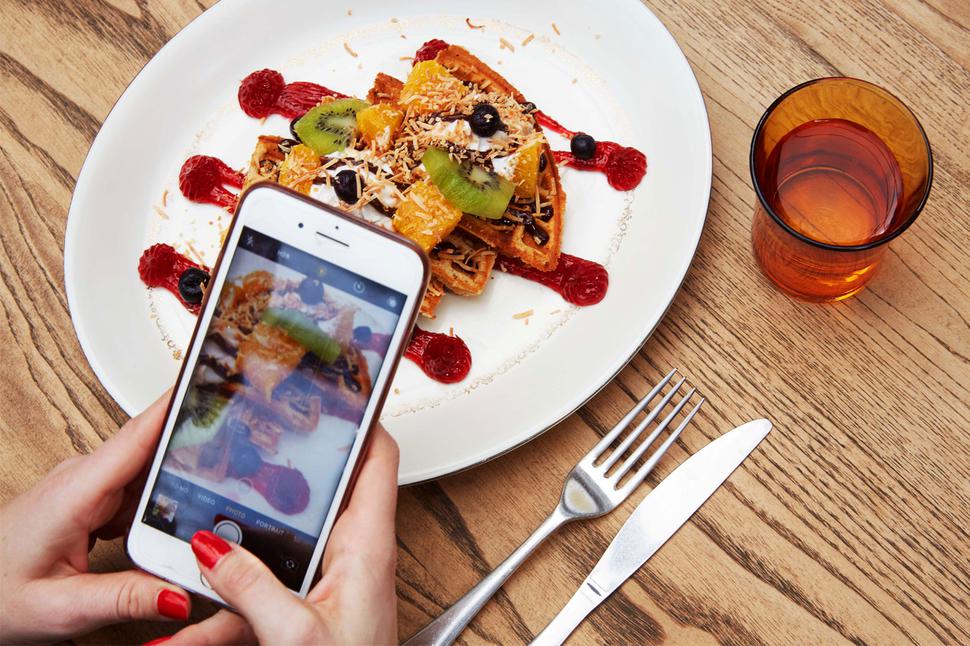 How Instagram Is Changing The Way We Eat
The relationship between food and social media is a complicated one, writes Ashleigh Cometti
Wednesday Sept. 26, 2018
Forget click bait, this year we're talking click plate. The old adage "eating with your eyes" has never been truer than it is today. From mermaid-inspired lattes to burgers dripping with cheese, trend-led food aimed at millennials is now entirely focused on aesthetic and scarcity.
Thanks to Instagram, this rising trend is completely shifting the way we engage with our food.
Pristine Instagram pics shared by food bloggers and Instagrammers alike set the tone for the #foodporn movement. Gone are the days of bland looking jam on toast, or porridge and fruit. Now, we're after toast piled high with avocado, chili flakes and pistachio, or handmade granola topped with buffalo yoghurt and candied mandarin.
Dishes are becoming brighter, bolder and more photogenic. But does this #instafood or #foodporn actually taste any good? Can taking a photo of our food before we devour eat change our experience of the dish?
MASS APPEAL
Gastrophysicist Charles Spence explains the effect of food imagery on our brains in his book, Gastrophysics: The New Science of Eating. "In terms of the brain's response to images of palatable or highly desirable foods (read: food porn), research shows widespread activation of a host of brain areas, including the taste and reward areas," he says.
"Nowadays, the visual appearance of a dish is just as important as, if not more important than, the taste or flavour itself," Spence explains.
Humankind has been preparing delectable, sumptuous-looking feasts for decades. The irony lies in the fact that those meals would have been prepared with very little consideration to their appearance – they tasted good and provided sustenance.
So, why and when did everything change?
Cue the coming together of East-meets-West influences in the French kitchens of the 1960s. A new wave of culinary prowess was born, and so too was the term "gastroporn" by Alexander Cockburn in The New York Review Of Books in 1977. 
Fast-forward to 2018, and today's restaurants are skewed towards the #foodporn movement even more, by preparing dishes that will photograph well for Instagram – particularly true of dishes that are OTT.
FOOD FRENZY
The crazy food trend is catching on internationally.
In London, Maxwell's Burger Cheesebomb is a beef, bacon, lettuce and tomato burger, smothered in a fondue pot-full of cheese. Does it make for an amazing Boomerang on your Instagram feed? Absolutely. But is it easy to devour? Not unless you eat at the speed of sound, before the cheese fondue reduces the bun to a soggy, sodden mess.
Los Angeles' Unicorn Melt from Chomp Eatery & Juice Station is a rainbow-striped grilled cheese that appears all the more indulgent when oozing unicorn-inspired colours.
San Francisco's Vive La Tarte serves Tacros – a mix between a croissant and taco. A croissant shell is bent into the shape of a taco, and filled with traditional taco fillings like pulled pork, Chile chicken or barbecued jackfruit.
Not forgetting all matter of unicorn-inspired shakes and drinks drenched in artificial colours and sweeteners, that even the most hardened sweet tooth would have trouble finishing.
Back home, the crazy food trend extends to esteemed brunch spot Major Sprout offers indulgent pancakes laden with fairy floss, slabs of bacon, and thick maple syrup.
Mount Eden's Cereal Killa specialises in "freakshakes", with their monstrous milkshakes looking to a mix of ice-cream, sprinkles, donuts, Oreo cookies, chocolate-dipped waffles and more to form each towering confection.
Winona Forever serves French Toast so thick it could hold a door open, topped with light-as-air meringues and sumptuous berry compote.
SNAP AND SHARE
Food photography forces us to interact with what's on our plate – through camera angles, lighting, composition, and prop placement. This time-consuming process builds anticipation what's to come, making that first bite all the more virtuous.
Search any Instagram hashtag pertaining to food and you're likely to be bombarded with image after image of mouthwatering dishes.
No one needs to caption the photo saying it's delicious; all they need to know is that it makes a damn good Instagram selfie.
New York Times food critic Pete Wells says: "camera cuisine in its purest form is both exquisitely photogenic and peculiarly bland and lifeless."
Wells adds that if we receive perfectly presented food, we are better able to savour food and enjoy it more. Posting food on our social media channels can reframe our interactions with food on a fundamental level. When we take a picture of our food, we take the time to relish it, share it, and be proud of it.
Couple this with thoughtful décor and well-appointed lighting fixtures and you're onto a winner. Interior design is just as important in appealing to happy snappers.
Research published in the Journal of Consumer Marketing included three studies with more than 120 participants each.
The first study explored the effect of photographing food before consumption, and the results showed that those who were made to take a picture of a red velvet cake perceived it to be more delicious than those who didn't.
The second explored the difference between photographing healthy or indulgent foods. Participants who were told their cake was made with indulgent ingredients then photograph it, believed their cake was better rating than those who were told their cake was made with healthier ingredients.
The third showed that photographing healthy foods before consumption can lead to greater enjoyment of the food, more than the participants normally would.
NEW WAVE DIGITAL MARKETING
Surpassing Facebook in popularity, the Instagram's power is undeniable. Boasting 800 million monthly users, the social media platform is changing how the hospitality industry presents their food to a hungry, captive audience.
It's no surprise that what we see becomes what we eat. Businesses are now harnessing the power of Instagram as their latest digital marketing tactic.
If millennials use food photos to decide where to eat in the first place – then why not target them through the app they look to most regularly?
For many small businesses, it's this form of new wave digital marketing that helps keep their business alive. Photos with their locations tagged to certain eateries motivate those who eat with their eyes to visit.
Every photogenic dish allows diners to visually share their experience in a way that is far more tangible than just word of mouth.
UK restaurant chain Zizzi hired an influencer to teach staff how to help their customers take more appealing pics of their foods, while London's Dirty Bones passes out Instagram Kits to patrons, which includes tripods and wide angle camera lenses.
PURE #HAPPIMESS
But our quest for likes shouldn't smother the art of enjoyment. This spring, we're forgoing plated precision in pursuit of a #happimess – the unbridled enjoyment that comes when you truly enjoy a meal.
It's the feeling you get when you eat without restraint, a concept no one understands better than Tip Top and Whittaker's. These two Kiwi favourites have teamed up to create a range of bespoke ice-creams and launch with a timely message, You Can't Fake Delicious.  
Available in three distinct flavours – Salted Caramel, Pretzel, and 33 per cent Whittaker's Dark Chocolate; Coffee, Chocolate, Cacao and 33 per cent Whittaker's Milk Chocolate; and Chocolate, Salted Caramel, Pretzel and 62 per cent Whittaker's Dark Chocolate, the two New Zealand foodie giants are encouraging us to eat without the camera in mind.  
Whether melting down your arm, coating your lips or accidentally landing on your clothes, this new wave food movement is about celebrating those moments of pure foodie bliss. Do you dare eat what you want and how you want to?
Take up the #happimess challenge here   
Share this: