How To Make Crayfish Bisque
Warm bread rolls are non negotiable when serving this rich, time-won shellfish soup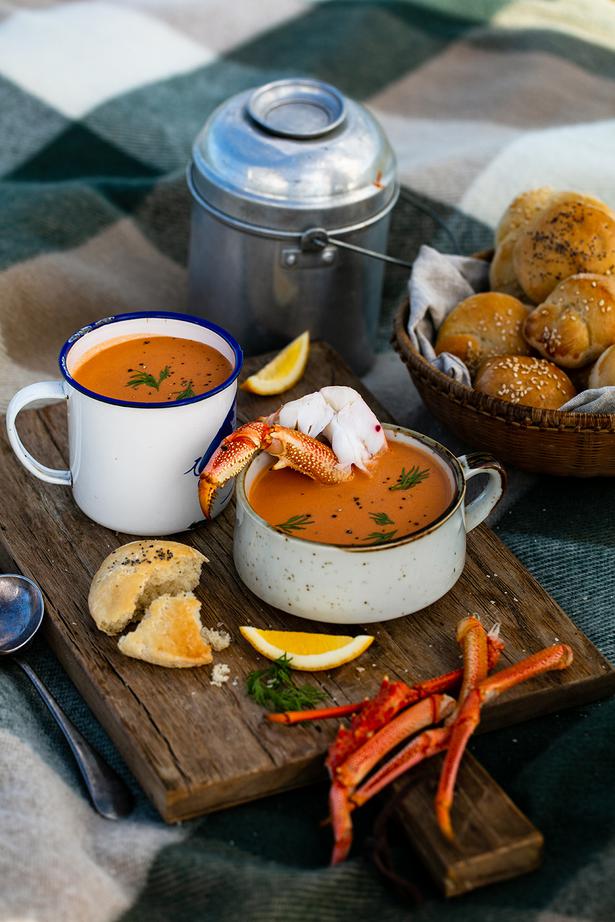 Wednesday Nov. 3, 2021
There's no question a good bisque takes time, but the result is a decadent delight well worth the effort. It keeps well in a Thermos, and is lovely served with crostini and a side of wasabi aioli. If you have a fresh whole cray, remove the meat from the tail to enjoy with your bisque.
CRAYFISH BISQUE RECIPE
Serves 6
50g butter
1 onion, roughly chopped
1 carrot, roughly chopped
2 cloves garlic, crushed
1kg crayfish shells including heads, broken up
¼ cup flour
1 cup white wine
400g tin chopped tomatoes
1 Tbsp tomato paste
1 litre chicken stock
Pinch cayenne pepper
1 cup cream
½ cup brandy
Crayfish meat, to serve (optional)
2 Tbsp dill, to sprinkle
Crusty rolls, to serve

1. In a large pot melt the butter. Add the onion, carrot and garlic, cooking for a few minutes until softened. Add all the shells, stirring through. Use the end of a rolling pin to crush them, gently tapping away to release all the flavours. The more you crush the shells, the more flavour will be extracted. Continue cooking for 15 minutes.
2. Stir through the flour, white wine, tomatoes, paste, and chicken stock. Bring to a simmer for 25 minutes, stirring and mashing every so often. Remove and pour through a large sieve, again mashing and pressing to get as much liquid as possible. Discard the shells. Puree the bisque, then pour through a fine sieve to remove any last bits of shell/grit.
3. Return the bisque to a clean pot. Bring to a simmer, adding the cayenne, cream and brandy, and season with salt and pepper.
4. Serve hot sprinkled with dill, extra crayfish and warm rolls on the side.
Originally published in Viva Magazine – Volume Five
Share this: