Ima Cuisine's Three-Rice Salad With Lentils and Roasted Vegetables Recipe
Yael Shochat from Ima Cuisine shares a recipe from her new book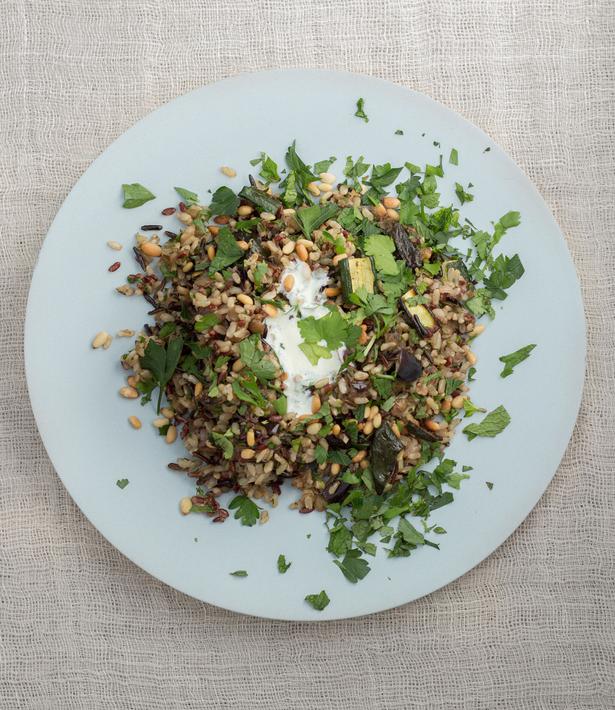 Wednesday Nov. 2, 2016
Yael Shochat has been feeding hungry Aucklanders her delicious self-taught cuisine since she opened the Lunch Box in downtown Auckland in the late 1990s. These days her restaurant and deli operates out of a much larger premises on Fort St as Ima Cuisine, but the iconic restaurateur is still front and centre and the eatery's heart and soul. Ima Cuisine, her first cookbook, features recipes both from the restaurant and from home, and is a combination of Mediterranean, North African, European and Middle Eastern dishes. Here is Yael's recipe for a three-rice salad from the new book.
READ Ima Cuisine's recipe for fattoush with fried haloumi
THREE-RICE SALAD WITH LENTILS AND ROASTED VEGETABLES
Serves 4 as a main or 8 as a side
I developed this salad because of the huge demand for gluten-free dishes. I use the triple-grain rice to add texture and flavour. I like to serve it with mint yoghurt, and for a vegan option it goes well with tahini.
FOR THE SPICE MIX
10g each:
Whole black peppercorns
Cardamom seeds
Broken cinnamon sticks
Cumin seeds
Allspice seeds
FOR THE SALAD
5 Tbsp extra virgin olive oil, divided
1 large onion, finely chopped
3 cloves garlic, finely chopped
2 Tbsp flaky salt, plus more to taste
3 cups uncooked long-grain rice (preferably a blend of black, red and white)
1 cup dried flat green lentils
1.8 litres water
3 courgettes, sliced lengthwise into 1cm strips
2 eggplants, sliced lengthwise into 1cm strips
1 cup toasted mixed pine nuts, pistachios and almonds
6 Tbsp finely chopped Italian flat-leaf parsley
3 Tbsp finely chopped mint
3 Tbsp finely chopped coriander
1½ Tbsp finely chopped dill
Mint yoghurt or tahini, to serve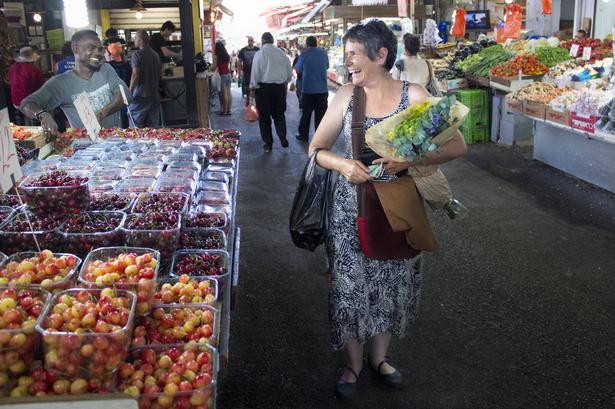 Ima's Cuisine's Yael Shochat at the market. Picture / Callum Thomas
1. Preheat your oven to 180C. Line a large oven tray with baking paper. Finely grind all the spices together in a spice grinder. Measure out 1 tablespoon and keep the remainder in an airtight container.
2. Heat 2 tablespoons of the oil over a medium heat in a large saucepan for which you have a lid. Cook the onion for 10 minutes until softened, then add the garlic and cook for a further 2 minutes until also softened. Add the measured ground spice, 1 tablespoon of salt, rice and lentils. Cook, stirring, for another 2 minutes.
3. Pour 1.8 litres of water into the pan, bring to the boil, and reduce the heat to low. Simmer, uncovered, for 45-50 minutes until the rice and lentils are cooked but retain a firm texture. Set aside to cool.
4. While the rice is cooking, toss the courgette and eggplant with the remaining 3 tablespoons of oil. Season with salt. Roast in a single layer on the tray for 30–40 minutes, flipping once, until nicely browned on both sides. Set aside to cool.
5. Chop the vegetables into 1-2cm pieces and mix them into the cooled rice. Stir through the nuts and herbs and season with additional salt to taste.
6. Serve at room temperature with mint yoghurt or tahini.
Recipe extracted with permission from Ima Cuisine by Yael Shochat with David Cohen, published by Random House NZ, RRP: $55.
Share this:
More Food & Drink / Recipes