Ima Cuisine's Fattoush with Fried Haloumi Recipe
Yael Shochat from Ima Cuisine shares a recipe from her new book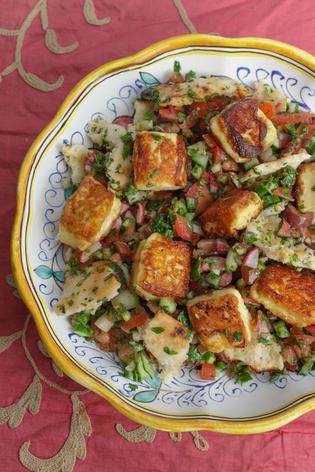 Yael Shochat has been feeding hungry Aucklanders her delicious self-taught cuisine since she opened the Lunch Box in downtown Auckland in the late 1990s. These days her restaurant and deli operates out of a much larger premises on Fort St as Ima Cuisine, but the iconic restaurateur is still front and centre and the eatery's heart and soul. Ima Cuisine, her first cookbook, features recipes both from the restaurant and from home, and is a combination of Mediterranean, North African, European and Middle Eastern dishes. Here is Yael's recipe for fattoush with fried haloumi from the new book.
FATTOUSH WITH FRIED HALOUMI
Serves 4 as a side; double to serve 4 as a light main
One of the best parts of this salad is the juices at the bottom of the bowl — the salt draws the moisture out of the vegetables, and mixed with the olive oil and lemon it is just divine. The result is so wonderful you wish you could bottle it (a famous Israeli chef actually attempted this but unfortunately failed). Pieces of grilled pita bread are perfect for soaking up the juices, and together with the kalamata olives and the warm haloumi, this makes for a beautiful summer lunch.
READ Ima Cuisine's recipe for Three-Rice Salad with Lentils and Roasted Vegetables
INGREDIENTS
1 quantity Arab Israeli salad 
½ cup Kalamata olives, pitted and roughly chopped
The equivalent of 2 slices good-quality bread, (e.g. pita, Turkish pide, baguette, ciabatta)
2 Tbsp extra virgin olive oil
180g haloumi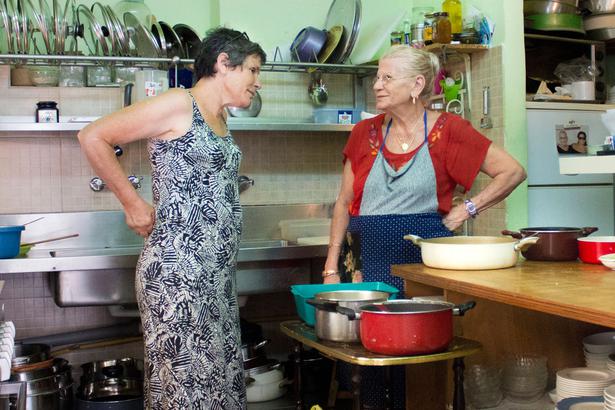 Ima's Cuisine's Yael Shochat (left) in the kitchen. Picture / Callum Thomas
1. Toast or grill the bread until golden brown on both sides with some light charring. Tear it into bite-sized pieces and toss the bread and olives into the salad, stirring to allow the bread to soak up the salad juices.
2. Heat the olive oil in a medium-sized frying pan over a medium-high heat until the oil shimmers. Cut the haloumi into 8mm thick pieces and fry to a dark golden colour, flipping the pieces to brown them on both sides. Top the salad with the haloumi and serve immediately.
Variations: You can replace the haloumi with 150g of good-quality feta, which you can add with the olives and bread. This allows you to prepare the full salad in advance.
Make ahead: This salad is best served fresh, but all steps up to and including adding the bread can be done an hour or two in advance if needed, bearing in mind that the bread will get softer the longer it sits. The final step of grilling the haloumi should be done just before serving, so that it is freshly grilled and still hot.
Recipe extracted with permission from Ima Cuisine by Yael Shochat with David Cohen, published by Random House NZ, RRP: $55.
Share this:
More Food & Drink / Recipes