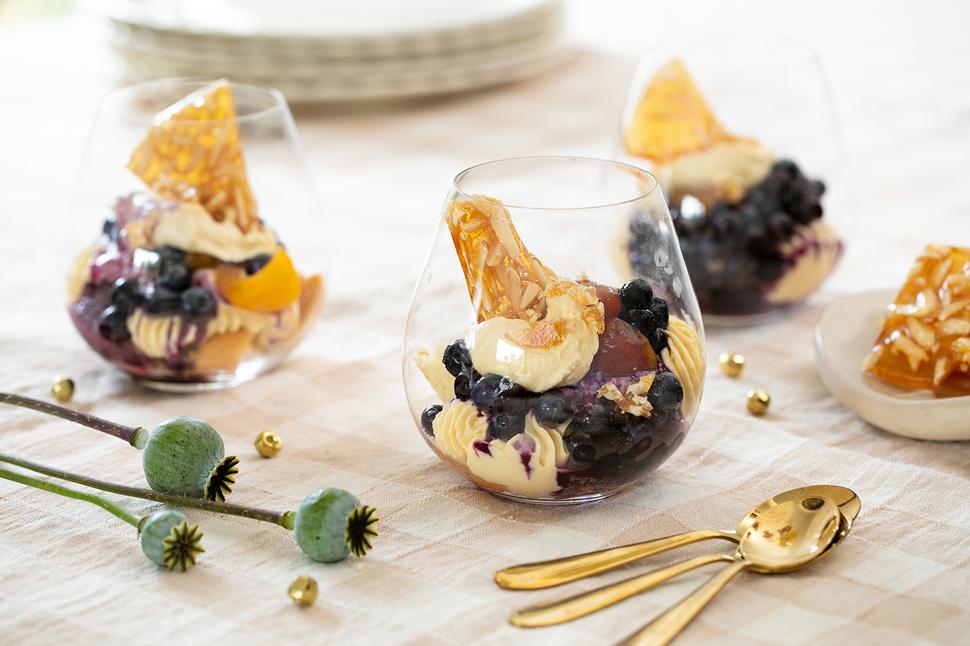 Individual Praline, Blueberry & Mascarpone Trifles
Crispy-sugary almond shards, marsala-cooked blueberries, fresh apricots and sponge cake, indulgently assembled
Monday Nov. 29, 2021
If you get the components for this trifle made ahead of time, the assembly is quick and easy. If the trifles sit for a few hours the flavours will only get better. Smash up some of the praline and sprinkle over icecream for a quick chilled summer dessert. Tinned apricots will suffice when fresh are not in season.
INDIVIDUAL TRIFLES RECIPE
Makes 6
Praline
200ml glucose syrup (available at supermarkets)
100g caster sugar
½ cup slivered almonds
Fruit
400g blueberries
½ cup sugar
2 Tbsp sweet wine or marsala
½ cup sliced apricots
Trifles
300g mascarpone
100ml cream
¼ cup brown sugar
1 sponge cake
1. To make the praline, place the glucose and sugar in a pot, heating slowly and stirring until the sugar has dissolved. Turn the heat up, bringing to the boil for 5 or 6 minutes until it is golden. Remove from the heat, add the almonds and pour on to a flat oven tray, allowing it to cool before breaking into shards. Store in an airtight container.
2. Place the blueberries, sugar and wine into a small pot. Bring to a simmer for 5 minutes. Remove and cool completely.
3. In a bowl gently stir together the mascarpone, cream and sugar.
4. To build the trifles, cut the sponge into squares and place in the bottom of 6 glasses. Spoon over some mascarpone, blueberries, apricots, more mascarpone and add a shard of praline on the top.
Share this: