Interview: Influential Herne Bay House Cat Phoebe Filo On Finding Balance
Reflecting on time spent at home, this fabulous feline reveals how she stays zen and nurtures her family, all while handling life's little irritations and allergens
SPONSORED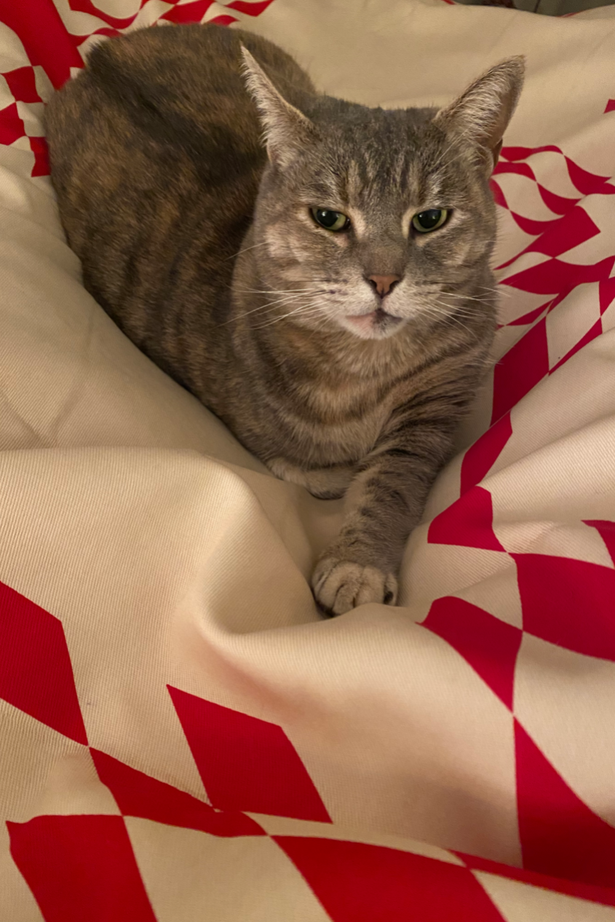 Tuesday Oct. 19, 2021
Phoebe, it's so nice to catch up again. How has lockdown been for you? It's been seven weeks at home with your humans.
Thanks hun. Lockdown has been great, although I am getting tired of seeing the humans all up in my space. I'm looking forward to when lockdown is over mostly so I can have the place to myself again and have some of my neighbourhood pals over for some catnip and a grazing platter. Love a platter.
What has been keeping you busy lately?
We're lucky to have a garden, so I've been spending a lot of time in that — nature really is so healing and good for the soul. I've been doing some cat yoga to stay grounded, and was also motivated to take up painting, inspired by the book Why Cats Paint: A Theory of Feline Aesthetics.
Many New Zealanders are finding comfort in the kitchen, does food play an important role in your daily routine?
Oh sweetie of course. How else does one obtain a gorgeous figure like this? Food is very important to me. I love staring at cookbooks, and I keep up with lots of influential foodies like Yotam Ottolenghi and Mary Berry to keep me inspired. I like grazing, and prefer a smorgasbord of options to nibble on during the day. Treaties are of course a great indulgence. Most recently I've been trying the new LiveClear range from Purina Pro Plan (which is formulated to reduce the allergens you put out into the home) and I have to say, it's divine. Oh, and I make sure to drink plenty of water of course.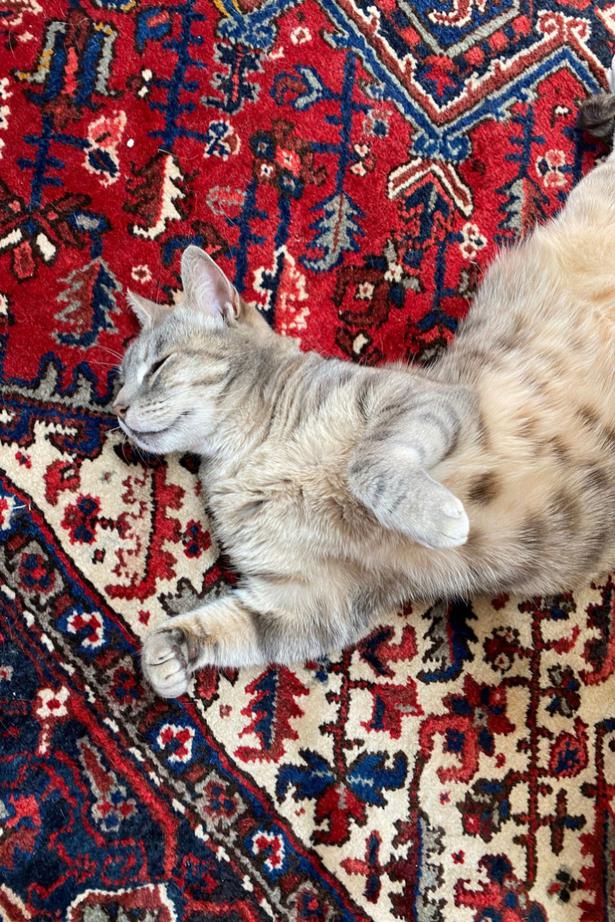 How does Purina Pro Plan LiveClear work?
It's all very innovative darling, and I've heard that it took over a decade of research. Fel d 1 – the protein in our saliva that causes sensitivities for 37 per cent of humans in Aotearoa – gets on to our hair and dander through grooming. So although we look gorgeous, this allergen can irritate the rest of our home environment. Purina Pro Plan LiveClear uses an egg-derived protein to neutralise Fel d 1 in our saliva and has been shown to reduce allergens in our hair and dander by an average of 47 per cent in the third week of daily feeding. The egg product ingredient is safe for us cats and is digested like any other protein. Very clever!
Why can allergens be so inconvenient?
Whether you've been told you can't sleep on the bed, don't get groomed as often as you'd like, can't get all the cuddles you want, or are constantly interrupted by the vacuum cleaner following you around the house, allergens can be an annoyance for even the most laidback feline like moi.
With all the life stresses at the moment, a lot of New Zealanders are feeling sensitive — is this something you struggle with?
To be honest, no. If I'm irritable it's usually because I am hungry. But I am very zen most of the time and it comes down to reducing the number of times I move myself during the day. Mostly following the sun.
How do you maintain boundaries?
Communicating is key — body language is everything, and one can communicate a lot via one's energy. I also like to establish a zone that's mine and mine alone. That said, I don't really have boundaries when it comes to humans. I'm just very passionate and if I like you then I pounce.
You're always very well-groomed, do you put much effort into this?
Not really. I was born pretty much looking like a supermodel. I do love having facials and massages though, very important to me. And I love having a damp toothbrush sliding across my forehead. Call me crazy.
How do you maintain balance, and why is it important to you?
I'm not great at balance but am trying! I love attention. I'm a social animal (excuse the pun) so I really thrive on interaction with others.

A 100 per cent complete and balanced dry cat food designed for daily feeding, with outstanding taste and nutrition, Purina Pro Plan LiveClear is safe for cats, and doesn't interfere with the production of Fel d 1 or the cat's overall physiology. Purina Pro Plan LiveClear is available in specialty pet stores, specialty online retailers and selected vet clinics in five formulas. Find out more at Purina.co.nz/cats/diet-nutrition/managing-cat-allergens.


Share this: