Haloumi Tacos with Mango Salsa and Rice Recipe
Izy Hossack shares a tasty vegetarian taco recipe from her new book, The Savvy Cook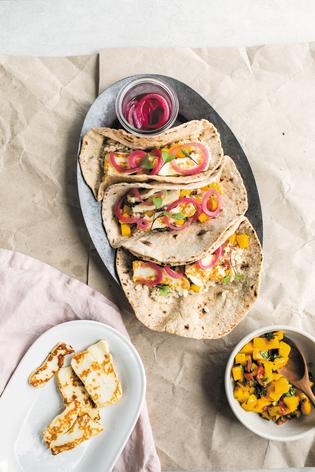 I usually end up basing tacos around dry-fried haloumi. It's got that 'meaty' factor and a heavy salt level to balance with the juicy salsa and sharp, pretty pickled red onions.Brown rice bulks them up with starch but I also like filling them with crunchy shredded lettuce and sauteed peppers if I'm craving a veg-ful taco.
Serves 2 (2 large or 4 small tacos) 
INGREDIENTS
80g brown rice or 160g cooked
125g haloumi, cut into about
3mm-thick slices
4 soft tortillas, warmed
A few Quick Pickled Red Onions (see recipe below)
Salt
READ: Meet Izy Hossack, the "New Nigella"
Mango Salsa
½ ripe mango, cubed
Juice of ½ lime
4 cherry tomatoes, finely chopped
Handful of fresh coriander, finely chopped
Pinch of chilli flakes
METHOD
1. If starting with uncooked rice, place the rice into a medium pan and cover well with water and a pinch of salt. Bring to the boil then reduce the heat to a simmer and cook for 20 minutes if using long-grain brown rice or 30 minutes if using short-grain brown rice. Check on the rice as it cooks and add more water as needed to prevent it from drying out and burning. Once cooked, drain and return to the pan then cover with a lid or plate and leave for 5 minutes to absorb any excess water.
2. Lay the haloumi slices in a dry nonstick frying pan over a high heat and fry for 2-4 minutes until the slices are light golden, then flip over and fry on the other side. Remove from the pan.
3. Mix all the salsa ingredients together in a medium bowl and set aside.
4. Divide the rice, salsa and halloumi between warmed tortillas. Top with a few strips of pickled red onion.
• Vegetarian, egg-free with a gluten-free option (use certified gluten-free corn tortillas).
TIPS & SWAPS
Cool and store any extra rice as quickly as possible by rinsing it under cold running water or spreading it out on a plate. Once cooled, keep in the refrigerator for 1 day or in a sandwich bag in the freezer for 2 months. When reheating, make sure it is piping hot before serving.
QUICK PICKLED RED ONIONS 
Serves 4-6 
Ingredients
1 red onion, thinly sliced into rings
4 Tbsp pple cider vinegar or rice vinegar
1 Tbsp granulated sugar
½ tsp salt
4 Tbsp water
Method 
1. Place the onion rings in a small bowl or a sandwich bag. 
2. Heat the vinegar, sugar and salt in a small pan over a medium heat, stirring until the sugar has dissolved. Pour the hot liquid over the onion rings in the bowl or bag, then top up with the measured water to just over the onions.
3. Leave the onions for at least 30 minutes before using.
4. For long-term storage, pour the liquid and the onion rings into a clean jar, seal with the lid and keep in the refrigerator for a week or so. If you use a sterilised jar (see tips below) they should keep for a few months.
• Vegetarian, vegan, gluten-free
TIPS & SWAPS
To sterilise a jar, wash the jar and lid thoroughly in hot, soapy water. Place on a baking tray and leave to dry in an oven preheated to 160C for 5-10 minutes. If your jar has a rubber seal, let this air-dry as the oven may damage it.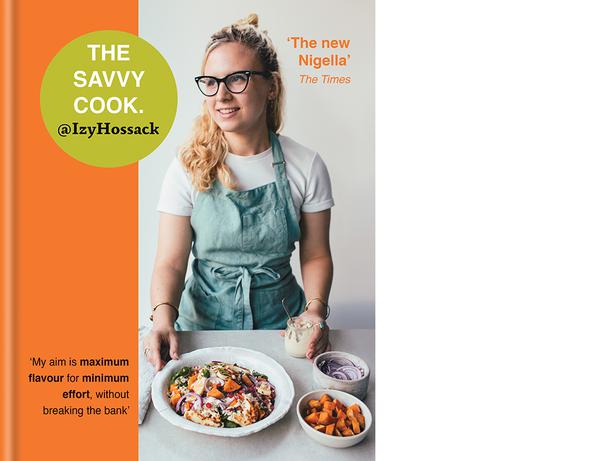 • Extracted with permission from The Savvy Cook by Izy Hossack, published by Mitchell Beazley ($35).
Share this: