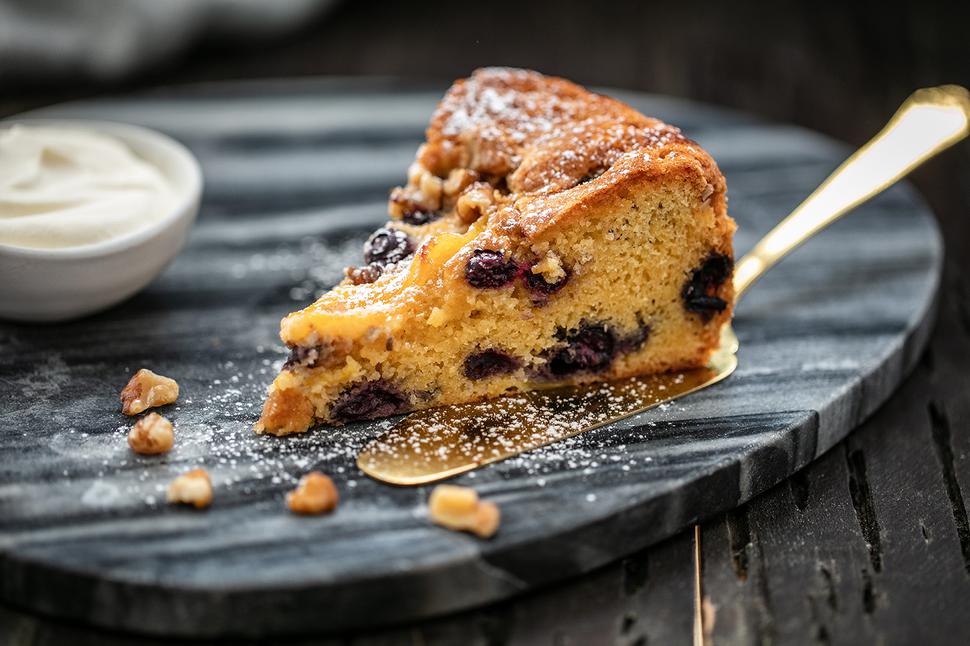 Jackfruit & Blueberry Cake
Apricots and peaches work equally well in this decadent dessert cake
Monday Aug. 30, 2021
This is a great dessert cake. You will find sweet tinned jackfruit at the supermarket along with apricots and peaches (which are great as an alternative in this recipe). Jackfruit tastes like a tropical combination of apple, pineapple, mango and banana. Give it a try.
JACKFRUIT AND BLUEBERRY CAKE RECIPE
Serves 8
150g butter
1 cup sugar
1 tsp vanilla
3 eggs
425g tin sweet jackfruit in syrup
1 ½ cup self-raising flour
1 cup frozen blueberries
½ cup chopped walnuts
Lightly whipped cream or yoghurt, to serve
1. Preheat oven to 170C. Grease and line a 20cm tin with paper.
2. Cream the butter, sugar and vanilla until light and pale. Add the eggs one at a time, beating to combine. Drain the jackfruit and cut into thin slices.
3. Fold through the flour, then the blueberries and half the jackfruit slices. Pour the batter into the tin, smoothing the top. Lay the remaining jackfruit on the top and sprinkle with the walnuts. Place into the oven for 50 minutes, covering after 30 if the top is browning.
4. Remove from the oven and cool in the tin. Serve with cream or yoghurt.
Share this: