Get in Quick for Ostro's Jamaican Pop-Up
Appleton Estate rum celebrates its 20th anniversary of master blender Joy Spence with a four-day pop-up on The Deck at Ostro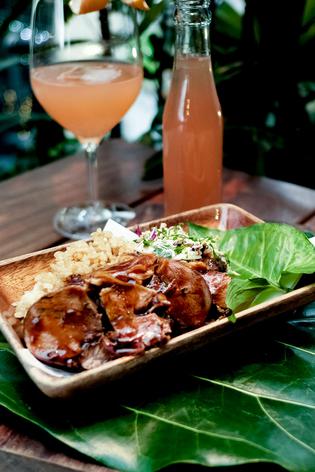 One thing Jamaicans know how to do is enjoy life to the full, and Aucklanders can sample a taste of that joyful spirit next week at Appleton Estate's new pop-up bar on The Deck at Ostro.
Created to celebrate the 20th anniversary of its master blender Joy Spence, the four-day only pop-up — named "Crafted with Joy" in her honour — will feature Appleton Estate rum cocktails and a tasting menu of Caribbean comfort food designed and prepared by Jamaican chef Larry Clarke. It will be housed within a purpose-built Jamaican house front which leads to a hidden speakeasy bar and kitchen. Furnishings will be as authentic as possible, think rattan, palms, and plenty of reggae.
The limited tickets, $35 at iTicket (though walk-ins are welcome), include the dish pictured — "A Bundle of Joy", either three-day smoked jerk chicken or pork with rice and peas, home-made festival (Jamaican fried dumplings) and spicy slaw — served with an accompanying cocktail. There are three drinks available including "Little Bottles of Joy" (pictured), featuring Appleton Estate Signature Blend with a citric acid solution infused with grapefruit oil Aperol. Additional cocktails are $15, with a happy hour between 5-6pm.
Vinci Gin-Nen, Events and Marketing Director of Savour Group which runs Ostro, says the pop-up will deliver "a piece of Jamaica right in the heart of Britomart". Cheers to that, mon.
• 52 Tyler St, Britomart, from Wednesday, August 2 to Saturday, August 5. Limited tickets available at iTicket.co.nz. Visit Seafarers.co.nz/thedeck
Share this:
More Food & Drink / Wine & Drink