Jeow Mak Keua Recipe (Eggplant Dip)
Serve this chunky served with crispy pieces of pita bread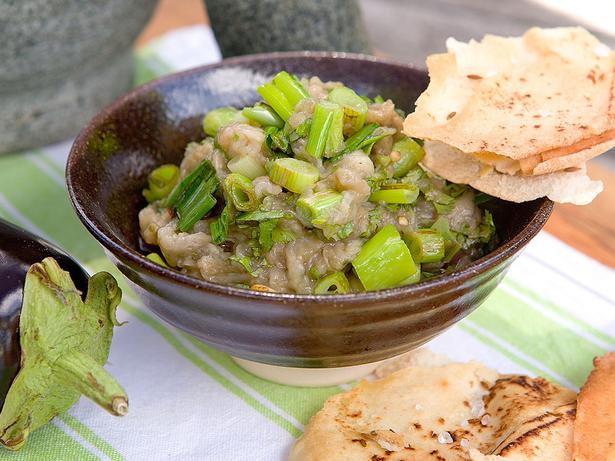 Friday Feb. 1, 2008
This chunky dip is a nice change from the store-bought staples of summer and is great served with crispy pieces of pita bread
JEOW MAK KEUA
Serves 4
3 pita breads
1 Tbsp peanut oil
2 tsp cumin seeds
Rock salt
1 large eggplant
½ small green chilli
2 cloves garlic
Sea salt and freshly ground black pepper
1 Tbsp vegetable oil
2 spring onions, tops included, sliced
2 Tbsp fresh coriander, chopped
1. Preheat oven to 180C. Slice the pita breads into wafers and brush with the oil. Sprinkle with cumin and salt and bake for 10-15 minutes or until slightly brown. Let cool.
2. Put the eggplant in a saucepan, cover with water and a lid then boil for 20 minutes. When cool enough to handle, trim and peel the eggplant then squeeze any excess liquid and discard.
3. In a pestle and mortar, grind the chilli and garlic then add the eggplant until a paste is formed. Season.
4. Heat the oil in a pan, and when hot add the spring onions and fry, then add to the eggplant with the coriander. Serve with the pita crisps.
Share this:
More Food & Drink / Recipes