Why Jess' Underground Kitchen is So Successful
As she publishes her second book, Jess Daniell tells us how her 'accidental' business keeps expanding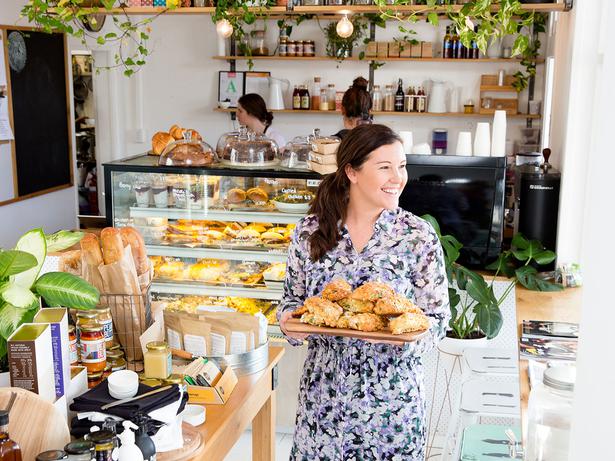 Wednesday April 5, 2017
It's a sunny Tuesday morning and the kids at Bayfield School are dancing en masse in the courtyard. Across the road at Jess' Underground Kitchen, some of their mums are relaxing over a coffee and a treat from the bulging cabinet: pork and fennel sausage rolls, Mediterranean wraps, ginger crunch laced with pistachios and coconut.
Flitting in and out of the kitchen, dressed in a floral jumpsuit befitting her bubbly demeanour, is Jess Daniell, the 32-year-old behind this seemingly normal cafe.
"Coffee on tap helps," she quips of her effervescent nature.
Jess is about to release her new cookbook, My Underground Deli, a follow-up to last year's My Underground Kitchen, and a "warm and friendly" reflection of the cabinet food she's now producing. But this is no ordinary eatery.
The indoor-outdoor site on the corner of Jervois and Clifton roads in Herne Bay functions as both a deli and production kitchen, from which the self-taught cook sells her ready-meals. This week she has her fingers crossed she'll hear from the council as to when she can open a second JUK at the top of Bassett Rd in Remuera.
Aside from attracting new customers on the other side of town, she hopes that moving production to the new site's much larger kitchen will make life much easier.
"The shop front is really cute," she adds. "It still has its original leadlight windows."
TRY: Jess' Healthier Swedish Meatballs
Things have grown to the point where Jess' mum has suggested she rename the business Jess' Overground Kitchen. It all started four years ago when she was flatting just around the corner in a pink house on Ardmore Rd.
"I used to love coming home and cooking," she says, sitting at one of the roadside tables as we indulge in one of her toasted spinach and feta scones. "That was my release."
She'd moved home from London, and thought she'd found her dream job as a copywriter at the Herald's Monday Bite magazine, one that combined her skills in marketing with her passion for food. Then one night a friend came around for dinner, and impressed by the fact Jess had made her own hummus on a weeknight, said she'd pay Jess to make her dinner — hell, so would her flatmates, who all worked late.
"We were all in our late 20s, working quite hard, wanting to live a healthy lifestyle and be careful of what we ate but falling back on takeaways a lot," says Jess. "There's only so many times you can have Renkon or Fatimas, trying to have the healthy option."
About the time she was told her contract wasn't going to be renewed, she was regularly making her friends dinner, charging them $10 for a healthy home-cooked meal. "Then I realised there was so much more opportunity."
The week Bite called her back and offered her a position, she'd already found a commercial kitchen in Glenfield, excited by the prospect of working for herself. With no advertising other than a Facebook page, Jess' Underground Kitchen took off.
Each day she'd cook on the Shore, then drive the food home, where people would collect it for dinner. Within weeks, word had spread, and soon she was feeding up to 100 people a day, so she set up a collection station at the nearby La Boulange bakery after hours.
READ: Restaurateur Jennifer Le Comte of Picnic Bakery
"It was quite a novel concept for the time," she says. "Auckland was ready to start embracing convenience food, outsourcing certain aspects of life. I was essentially cooking what I was going to have for dinner every night — fresh, healthy and delicious."
Coincidentally she launched the same week as My Food Bag, and while JUK is a blip on the scale of the planning-to-be-listed national food delivery service, you get some sense of the size of her business by her nearly 27,000 Facebook followers.
Jess' biggest challenge was learning to adapt her homely "pottering around on a Sunday"-style of cooking to suddenly browning 10kg of onions and 40kg of meat in multiple pans. "I'd be standing there stirring this massive pot thinking, 'what the hell am I doing?'."
For a long time she worked on her own, but now she has 10 full-time and two part-time staff working in the kitchen and front of house. The team cooks up to 200 dinner meals a day in the relatively small Jervois Rd kitchen, with customers ordering online and popping in after work to collect them or pay $10 to have them delivered throughout Auckland.
Then there are the salads, sandwiches and fresh baking prepared daily for the deli. JUK also caters for special events — bespoke on-site offerings for everything from weddings to funerals.
Four of JUK's most popular frozen meals — beef lasagna, chicken lasagna, paleo shepherd's pie and mac and cheese — are sold at Farro Fresh; she now has plans to take them nationwide. It's a trend she sees continuing, as Kiwis demand higher quality ready-meals, the likes have which have been sold in the UK — through Marks & Spencer, for example, for years.
TRY: Healthier Swedish Meatballs Recipe by Jess' Underground Kitchen
The menu changes depending on what Jess basically feels like eating herself but in general they're comforting, balanced, ethnically diverse meals: Moroccan tagine, pork noodle soup, Mexican burgers. Meanwhile, the book features deli-style favourites such as green shakshuka, Jamaican jerk chicken, and her take on avocado on toast (with Marmite), a controversial inclusion, you may say, given Nigella Lawson's avo on toast recipe was met with a few raised eyebrows.
"If you haven't tried it," she insists, "you'll be converted."
There's also the recipe for Jess' famous Swedish meatballs, which are apparently so good that someone once broke into the deli and nicked 1000 of them from the chiller, along with 20kg of chicken and 30kg of lamb destined for a wedding the next day.
Thanks to a phone call to their local butcher and some speedy work, they were able to replace the meat but it still cost Jess $2000 in insurance excess, not to mention the labour costs. (Today is the first time the staff have dared to make the meatballs again).
There have been other challenges too, from managing staff — her head chef is about to head off on maternity leave — to the long hours; Jess is usually in the kitchen by 6am, and sifting through paperwork at her West Auckland home until 9pm most nights, clocking an average of 90 hours a week.
She recently promised her partner that once Remuera is open, she'll ease off and improve her work-life balance. Then there are the hurdles that come with catering. During the recent weather bomb JUK catered two outdoor weddings.
"It can be tricky, especially when you've been moved to the middle of a muddy field because they're using the barn as their venue with a pop-up gazebo, mud up to our ankles and two barbecues and the running water is a hose. You have to work around a lot but . . . you can't let it defeat you."
READ: Jess Daniell's Recipe for Spicy Kale Chips
Jess is the first to admit the creative side of the business appeals more than the financials and she's never written a business plan, but her marketing background means she's comfortable looking after all of her own social media to build her brand.
"So far it's driven itself pretty well," she said. "It's become what it needs to be rather than being a preconceived idea of what it should be. And I love our customers," she says, many of whom have been loyal since the beginning.
"I never realised how much feeding people means. I minimise their food waste. I give them more time to go to the gym. They can do stuff after work. It's such a happy thing to give someone and the fact they keep coming back for more is the biggest compliment. It's all about the people, really."
• My Underground Deli, $49.95 is out April 7.
Be inspired by the good things in life. Sign up now to receive emails from Viva, and twice a week you will be sent the latest news, profiles, videos, fashion shoots, competitions and more.
Share this: