Healthier Swedish Meatballs Recipe by Jess' Underground Kitchen
Try this comforting dish by Jess Daniell of Jess' Underground Kitchen for healthier meatballs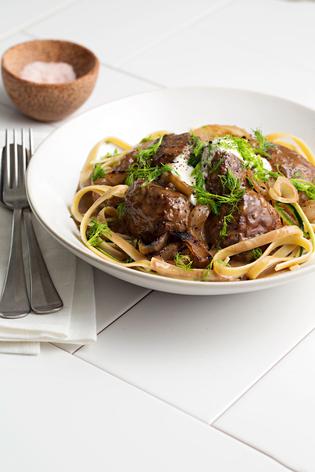 HEALTHIER SWEDISH MEATBALLS RECIPE
Makes 4 serves. Preparation time: 30 minutes.  
Nothing beats a meatball smothered in a creamy sauce, and mine are even healthier because they're dairy-free. Last year our deli chiller at Jess' Underground Kitchen was broken into, and 1000 pre-rolled Swedish meatballs were stolen. We can laugh about it now, but it went down in the books as the Great Meatball Heist of Herne Bay!
Ingredients
400g pork mince (or half pork, half beef mince)
1 egg, beaten
1 onion, finely diced
2 garlic cloves, crushed
½ tsp ground allspice
½ tsp ground nutmeg
½ tsp ground cardamom
Salt and pepper
200g fettuccine
4 Tbsp olive oil
1 onion, sliced
1 Tbsp flour
2 cups chicken stock
2 cups coconut cream
2 Tbsp soy sauce
2 Tbsp lemon juice
2 Tbsp redcurrant jelly
1 tsp ground allspice
½ tsp ground nutmeg
Small handful fresh dill, to serve
READ: Why Jess' Underground Kitchen is So Successful

Method
1. To make the meatballs, combine the mince, egg, onion, garlic and spices in a bowl. Season generously with salt and pepper. Mix with your hands until thoroughly combined.
2. Form the mixture into small balls. Place the meatballs on a baking tray, cover with plastic wrap and refrigerate until needed.
3. In a large pot of salted boiling water, cook the fettuccine according to packet instructions.
4. Heat a large frying pan over a medium-high heat. Add 2 Tbps of oil and cook meatballs in batches, until browned. Remove and set aside.
5. In the same pan, add the remaining oil and sliced onion. Cook for 5-6 minutes, until softened and translucent. Whisk in flour and cook for a further 1–2 minutes.
6. Add chicken stock, coconut cream, soy sauce, lemon juice, redcurrant jelly, allspice and nutmeg. Season to taste with salt and pepper.
7. Return browned meatballs to the pan, reduce the heat to low, and simmer, stirring occasionally, until the meatballs are cooked through and the sauce has thickened, about 10-12 minutes. Add a spoonful or two of the pasta water, if needed, to loosen sauce to your desired consistency while cooking.
8. Fill serving bowls with fettuccine and top with meatballs, extra sauce and fresh dill.
• Extract reprinted with permission from My Underground Deli by Jess Daniell, $49.95, out April 7.
Be inspired by the good things in life. Sign up now to receive emails from Viva, and twice a week you will be sent the latest news, profiles, videos, fashion shoots, competitions and more.
Share this:
More Food & Drink / Recipes