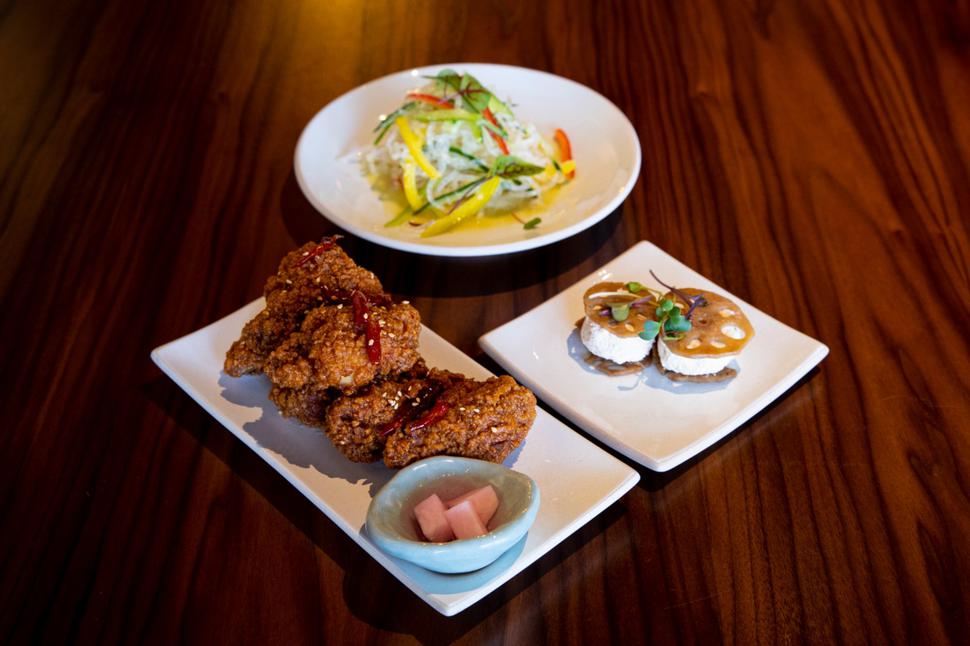 Restaurant Review: Jesse Mulligan Embraces The Clean Flavours At Ockhee
Jesse Mulligan tries the knock-out flavours at this newly opened Korean restaurant
Wednesday Aug. 19, 2020
OCKHEE
Cuisine: Korean
Address: 171 Ponsonby Rd, Ponsonby Phone: (09) 217 2020
Drinks: Fully licensed
From the menu: Sesame soy fried chicken $18; lotus root tofu $7; seaweed salad $15; chicken dupbap $18
Reservations: Not accepted
I've been enjoying the odd meal out without booze recently. I mean I know that's just normal behaviour for some people but most of us growing up in New Zealand never stood a chance at a life where alcohol on a night out was optional. For a while you could at least go to the movies sober but now they do wine there too, with a little button you can press to ask for more if you notice your glass is concerningly empty part way through the film.
The interesting thing about food without wine is that when you're driving home it can sometimes still feel like you've been drinking — there's a sort
of fizziness to your brain and on your skin that I've worked out is probably, depending on the cuisine, due to the amount of sugar you've just ingested. I often feel that way after Southeast Asian meals, where it's hard to keep track of how much sucrose is being heaped in to balance out those salt-sour flavours and following a night of classical French bistro food where the sugar is served with five types of saturated fat.
But I felt tight and bright leaving Ockhee on Ponsonby Rd, where the food is absolutely maxed-out in terms of taste and flavour and the dishes are a mix of intensely fried and delicately tossed. No sooner have you removed the disposable glove that comes with your stack of sticky glazed chicken wings than a plate of clear seaweed noodles arrives, tossed in a zingy agro-dolce dressing that makes a green papaya salad seem bland by comparison.
There must be a little sugar in that dish but otherwise it would have almost zero calories (that's the first time I've used the C-word in this column, where it is usually unwelcome but I think it's instructive to show how good a dish can taste without the usual flavour crutches).
So there is indulgence here, and there is restraint that tastes like indulgence. And it all comes wrapped up in a thoughtfully branded package, where the typesetting seems as important as the seasoning and where, if you want some more info during ordering, you scan a QR code that takes you to an Instagram story showcasing the daily offerings.
It's another tiny restaurant and probably easier to get in at lunch, where the menu focus is on dupbap, a stir- fried rice dish where you do the stirring. Though we'd just finished half a dozen wings we doubled down on the chicken option, so irresistible was the Insta photography. It was a total knockout, the mixture of pickled radish, sesame, gochugang chilli paste and nori creating a taste profile that could only have come from Korea, a country that isn't yet as familiar to many of us as the usual OE stopping points around Thailand and Vietnam, but that is all of a sudden dominating Auckland's restaurant scene and forcing us to catch up.
Restaurant Review: Jesse Mulligan Heads To Han & rejoices In The Pleasure Of Dining Out
There are some delicious-looking house wines and a Seoul Negroni, which I'll come back and try but, as I said, I had my halo on for this visit. "This sparkling water has a very fine bead," I said to Victoria when we ran out of things to talk about. "All right buddy, I think you've had enough," she said, pushing the carafe out of reach.
It was true though, the bead was fine-as. It was just what you needed after a mouthful of spicy chicken, sticky and crunchy and draped in chillies — the sort of dish you think about for weeks, wondering when you can get in to eat it again.
Share this: