Jo Burzynska's wedding wine tips
Impress your wedding guests with a first-class wine selection. Jo Burzynska tells how.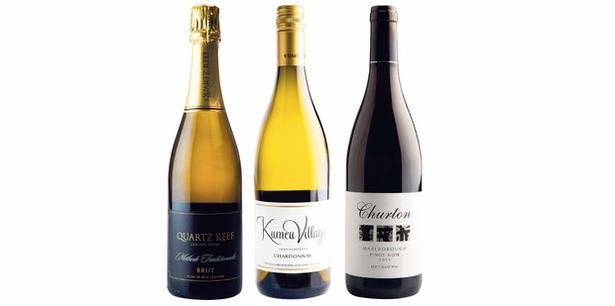 Thursday Aug. 7, 2014
For years I've been dispensing advice on the wine selection for other people's weddings, but now it's my turn to choose the libations for my own marriage celebrations. With just over five months to go, unsurprisingly, wine is one area in which I'm well ahead.
I've been setting aside special wines for the wedding feast for well over a year. And if you've a decent run-up to your nuptials and, like me, actively enjoy the wine selection process, it's something I can strongly recommend.
Any wine I've thought was particularly suitable since my beau popped the question a couple of years back has been acquired and squirrelled away for the big day. These are mostly wines that benefit from some cellaring and this means what I've chosen should be drinking superbly by the big day.
It's worth sitting down with your betrothed well in advance anyway to get an idea of what wines would suit the occasion. These should ideally be bottles you both like, that suit the food being served at the wedding banquet and that fit your budget.
Though I'd love to treat my guests to Grand Cru burgundy throughout the festivities, it's not something that we can afford. However, starting the wedding wine collection early has meant I've been able to spread the cost of the special bottles I've selected for the first round of wines on the table.
Unlike Jesus, I'm not planning on saving the best to last, so we'll then be moving on to slightly cheaper, but still decent, bottles as the festivities progress. Thankfully, there are some great wines at affordable prices if you choose carefully and shop around. Try before you buy and when buying by the case, you can often negotiate money off as well.
As it would be an excruciating embarrassment for a wine writer to run out of vino at her own wedding, we're making sure we're well-stocked. Knowing the wine-loving nature of many of our friends and the length of the festivities from afternoon until late, I'm erring on the side of overestimation, allowing half a bottle of the first wines on the table per guest, then another half from the next round.
We'll also be sharing bubbly and canapes immediately after the ceremony and requiring it to toast so I've factored in at least half a bottle a head. It's doubtful anyone will drink this much, but it will put my mind at rest. As some of the wines have been bought on sale or return, leftovers won't leave us out of pocket.
Hiring a venue that allowed us to provide our own wines was an important factor for us. If you're a wine lover, unless what's offered in-house is pretty smart, it's worth finding a place than doesn't lock you into their in-house selection.
That meant many venues went out the window for us, but there will always be some compromise. Mine has been on stemware. As a strong proponent of appropriate glasses, my heart fell when the boat we've booked for the ceremony and celebration strongly recommended no glass on board.
We'd been swept away by the thought of exchanging our vows on a historic tugboat on the water surrounded by stunning scenery. And, thankfully, now there's a better range of unbreakable options so this wasn't a complete catastrophe - we're going for the fun Govino polymer stemless vessels, designed specifically for the appreciation of wine.
However, there was one concession I couldn't make: the ship's suggestion to bring cask wine. Now that would have been a deal breaker!

LOVINGLY CHOSEN NEW WINES
My fiance and I are not New Zealand natives and have spent much time travelling, so we have friends and family attending the wedding from around the globe. As we celebrate bringing everyone together in our adopted home it seems fitting to 
serve our guests local wines.
Quartz Reef Central Otago Methode Traditionnelle Brut NV $36.99
Quartz Reef's classic Kiwi sparkling wine is a great choice for the toast, with its fine notes of pear and apple over a savoury undercurrent and exhilarating line of citrus and flinty mineral. Find at Glengarry, Caro's, Fine Wine Delivery Company and The Village Winery.

Kumeu Village Chardonnay 2011 $14.99-$19.99
As an elegant, well-priced all-rounder of a wine, this chardonnay from one of the country's top producers of the variety is hard to beat. Its creamy palate of fleshy peach fruit and hints of herb over an undercurrent of fresh citrus and mineral will work well with a wide variety of wedding fare. Available from Farro, Fine Wine Delivery Co, First Glass and Glengarry.

Churton Marlborough Pinot Noir 2011 $11.99
There are some amazing bargains about that allow you to serve great wine without blowing the budget, such as this elegant pinot noir from Churton with its silky texture, refined plum fruit and attractive savoury undercurrent. It normally retails for around $44, but the winery has been forced to discount it to generate cash flow following the destruction of its sauvignon crop this year by hail. Available atblackmarket.co.nz.
Share this:
More Food & Drink / Wine & Drink