Josh Emett's Coconut Chia Pudding
Try one of the dishes from Josh's upcoming brunch degustation at Ostro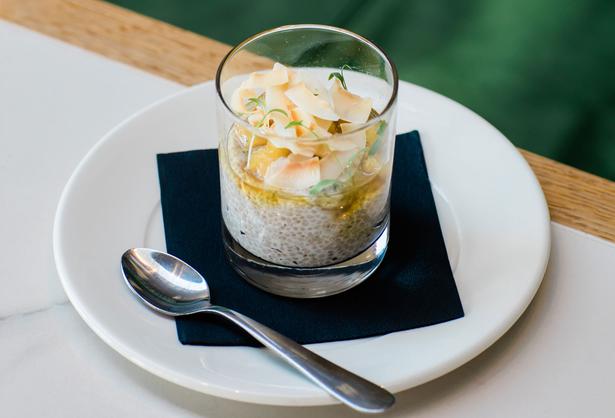 Wednesday April 11, 2018
This month, chef Josh Emett, Nespresso and Viva are inviting the most dedicated coffee-lovers to a weekend of bespoke four-course degustation brunches at Ostro.
One of the dishes Josh will be serving is this delicious chia seed pudding, which is one you can try at home.
COCONUT CHIA SEED PUDDING WITH PINEAPPLE & LIME GULA MELAKA SYRUP
Serves 4
Coconut Chia Pudding
250g coconut milk
50g chia seed
5g agave or maple syrup
Few drops vanilla essence
30g coconut cream
Pinch salt
Pineapple Gula Melaka Syrup (Palm Sugar Syrup)
250g palm sugar, chopped
125g water
500g pineapple, diced
2 pandan leaves (knotted) optional 
To Serve
Micro or standard coriander
Coconut crisps
1 lime
1. Place the coconut milk, chia seed and agave syrup in a sealable container. Shake or stir to make sure all the seeds are separated well then leave overnight in the fridge.
2. In the morning stir in the coconut cream and pinch salt.

3. For the syrup, place the palm sugar, water and pandan leaves in a wide base pot and boil until the syrup turns to a caramel, add the pineapple in at this stage, then boil until all the moisture has gone and it is reduced almost to a glaze.
4. Pour into takeaway container and store for later use.
5. To serve, place around 90g of chia pudding in the base of a glass, then spoon 30g pineapple with some of the syrup over the top, finish with lime zest and, coconut crisps and a couple of coriander leaves.
Share this:
More Food & Drink / Recipes