Josh Emett's squid on a stick recipe
Elegant, dainty and easy to eat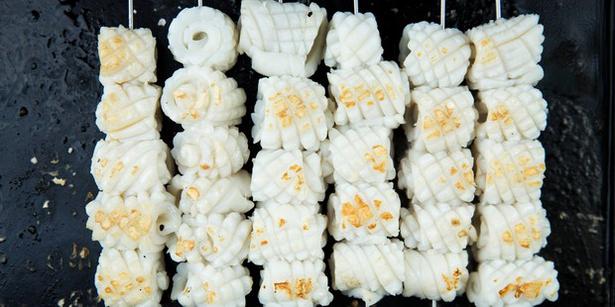 Monday Feb. 9, 2015
Elegant, dainty and easy to eat - Josh Emett's squid on a stick is perfect for packing into a hamper, as the top chef is planning to do at this year's Diner en Blanc. The international al-fresco dining phenomenon is back in Auckland this February 21, with Viva a sponsor. Emett shares the recipe below.
"I love the way squid curls up into little rolls, making it perfect to slip on to skewers. This is the first time I have used the blanched squid technique, but it makes perfect sense and works a treat. Glaze them well with the honey and soy and let it caramelise on the barbecue."

SQUID ON A STICK
Prep: 25 min
Cooking: 5 min
Serves 6
• 100ml thick soy sauce
• 50ml honey
• Few slices ginger
• 4 squid tubes
• Skewers
• Rice bran oil for cooking
• ½ cup toasted peanuts, chopped
• 1 handful coriander leaves
1. Heat the barbecue to high.
2. Whisk the soy sauce and honey together, then add the slices of ginger and leave to infuse.
3. Take the squid tubes and split them open by cutting down the seam. You will see a little slit at the top of the tube which is where you should cut them. Score at 5mm intervals across the inside in one direction, about halfway through the flesh. Repeat in the other direction to make a criss-cross pattern. Cut each squid tube in half horizontally, then into strips.
4. Bring a saucepan of water to the boil, drop the squid strips into the water and blanch for about 15 seconds, until they curl up into little rolls. Drain and cool as quickly as possible.
5. Slide little rolls of squid on to the skewers, right up next to each other so they hold together tightly and won't fall off or unravel.
6. Brush the squid with a little rice bran oil. Grill the squid on the hot barbecue plate and brush with the honey soy while cooking until caramelised and sticky, 5 minutes. You can finish the squid on the grill for extra char and colour.
7. Garnish with toasted peanuts and coriander.

• Reproduced with permission from Josh's Backyard BBQ by Josh Emett. $60, Random House.
Share this: