Meet Joy Spence, Appleton Estate's Master Blender
The Jamaican rum company this year celebrates Joy Spence's 20th anniversary as its master blender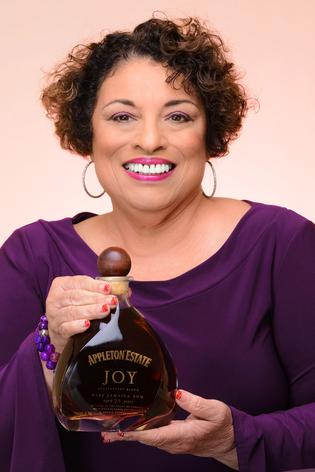 Jamaican-based Joy Spence is Appleton Estate's master blender, which means she's responsible for the consistent quality of the premium rum company's existing products and the creation of new blends. The trained chemist, who is also a global brand ambassador for the company, is in New Zealand this week to celebrate the release of a limited edition 25-year-old anniversary blend she created to mark her 20 years as the company's master blender, and which is named in her honour. We spoke to Joy ahead of her visit. 
You're the first female master blender in the spirits industry — how difficult was it to enter such a boy's club?
I think that traditionally the industry was looked at as being a male profession and as a result women were not aware of the roles that were available, but times are changing and more and more women are joining the industry across the spectrum of positions. I am very grateful that when I joined J. Wray & Nephew Limited as its chief chemist, the then master blender recognised my talents and taught me more about the science of rum making and the art of rum blending. Then the responsibility of continuing his legacy was put in my hands.
I never focused on gender — I knew that I had the technical and creative skills to do my job and do it very well and therefore all I focused on was getting the work done. As a result, I have never had any difficulty with attitudes.
More women have been promoted to master blender over the past few years. I think this is exciting for the industry, as women bring a different flair to the business.
How has your background in chemistry helped your career as a master blender? 
Chemistry plays an important role in my work as I use it in many aspects of our business — for instance, what takes place during fermentation and distillation are chemical reactions, and the transformation that takes place during ageing is also a highly technical chemical process.
What makes your anniversary blend unique?
2017 marks my 20th anniversary as Appleton Estate's master blender and I created the Appleton Estate Joy Anniversary Blend to celebrate this special milestone in my career. It includes two rum marques which are of particular sentimental significance to me: The first of these marques was laid down to age in 1981 — which is the year I joined the Appleton Estate team. The second is my favourite marque of pot still rum. I love this particular pot still marque because it develops a unique fruity and spice note during ageing which I think is exceptional. These two rum marques are at the heart of the blend and are complemented by other marques that I have selected to create a 25-year-old minimum age rum that has a unique flavour profile.    
What are some of the Jamaican dishes that really make the rum sing?
Jerk pork, escovitch fish, curried goat, are some of the Jamaican dishes that provide the perfect harmony with rum
The temperature here is probably much cooler than you are used to, what's a great rum cocktail for cooler weather and why?
I would recommend a Rum Old Fashioned with Appleton Estate Rare Blend 12yo. This cocktail creates a warm sensation and goes down exceptionally smooth on the palate.
What cocktail would transport us to Jamaica in a single sip?
A brown sugar/molasses daiquiri with Appleton Estate Reserve.
WATCH: Floyd's Pelican Bar in St Elizabeth, Jamaica
What are some of the coolest places to drink rum in Jamaica?
Floyd's Pelican Bar (located on a sandbank in the sea), rafting on the Rio Grande River, Strawberry Hill (6000 feet up, overlooking the city of Kingston)
Why do you believe rum is the new whiskey?
The premium aged rum category is on the rise. Consumers are now enjoying these complex and sophisticated rums neat or in elegant cocktails. This trend in rum premiumisation is going to take it to another level and it will eventually become the new whiskey.
What's your favourite way to drink Appleton Estate rum?
It depends on the occasion — from a memorable cocktail at a party to sipping in a nice romantic setting. I enjoy sipping "The Joy cocktail" while sitting and watching the Jamaican sunset in my garden — Appleton Estate Reserve rum with a slice of orange, muddled with a few drops of bitters and topped up with ginger ale and cracked ice.
Who is the most memorable chef you've worked with?
Chef Andre Fowles (of the famed New York City Jamaican restaurant Miss Lily's) and I developed a ''Taste of Jamaica" programme where he recreated my favourite Jamaican dishes with an international twist and we paired them with the rums in the Appleton Estate range.
• Ostro are hosting a Appleton Estate pop-up bar in Joy's honour on its deck from Wednesday August 2 to Saturday August 5 at 52 Tyler St, Britomart. Limited tickets, $35, available at iTicket.co.nz which include a tasting plate and one cocktail. Walk-ins are welcome and guests in the main restaurant at Ostro can also order the cocktails. 
Share this:
More Food & Drink / Wine & Drink